Introduction
On November 14, 2019, the review embargo for the AMD Ryzen 9 3950X mainstream desktop processor expired. As a result, there were a flood of written and video reviews of AMD's new flagship processor for the mainstream market segment. This 7nm processor has 16C/32T with a base clock speed of 3.5GHz, a max boost clock of up to 4.7GHz, a 64MB L3 cache, a 105W TDP, and PCIe 4.0 support. The SRP is $749.99.
It is essentially the same Zen 2 processor as the 12C/24T AMD Ryzen 9 3900X (with two CCX) with four more cores and slightly different base and max boost clock speeds that has a SRP of $499.99. One important difference is that the 3900X comes with an included Wraith Prism CPU cooler, while the 3950X does not include a CPU cooler. AMD actually recommends an all-in-one liquid cooler with a 280mm radiator (or greater) for the 3950X.
This is actually a strange recommendation, since according to several reviews, the 3950X runs cooler than the 3900X (in an otherwise identical system). I suspect that you would also be fine with a high quality, large air cooler from Noctua. This apparent paradox is due to better binning of the chiplets used in the 3950X, which lets them run at lower voltage at the same clock speeds compared to the 3900X. This reduces energy usage and reduces the heat output.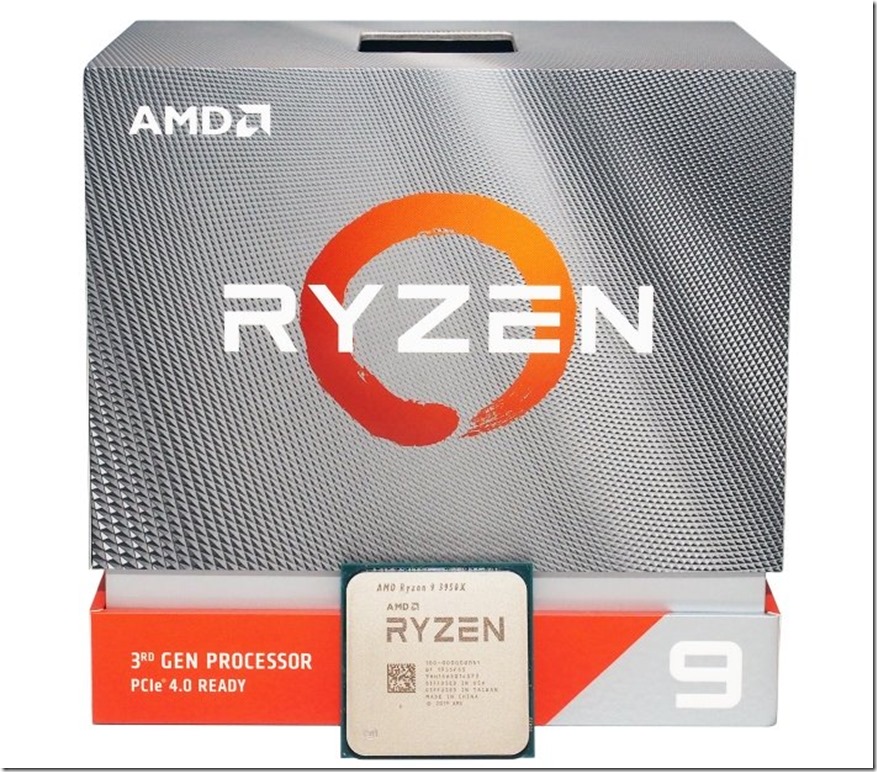 Figure 1: AMD Ryzen 9 3950X
My Analysis
After reading and watching multiple reviews of the Ryzen 9 3950X, I am very impressed, more so than I thought I would be. It's single-threaded performance is comparable to the 8C/16T Intel Core i9-9900K and 9900KS on most benchmarks, while its multi-threaded performance is far superior to those two flagship Intel desktop processors on nearly every benchmark. To make matters worse for Intel, the 3950X has significantly better single-threaded performance than Intel's much more expensive current Skylake-X HEDT processors and comparable or better multi-threaded performance on most benchmarks.
The Ryzen 9 3950X also dominates the existing 12nm 16C/32T AMD Ryzen Threadripper 2950X HEDT processor in both single and multi-threaded performance. It does have less memory capacity (two memory channels and four DIMM slots vs. four memory channels and eight DIMM slots), but it supports faster memory. It has fewer PCIe lanes, but PCIe 4.0 lanes have twice the bandwidth of PCIe 3.0 lanes.
Intel really doesn't have a viable competitive response in the mainstream or HEDT segments available now, or on the short-term horizon (meaning the next six to twelve months). About all Intel can do to try to minimize the damage is to reduce their prices pretty significantly. They have the financial resources to do that if they want to, and I predict they will. If you simply must have an Intel processor, I suggest you wait a month or two to take advantage of this.
Who Is This Processor For?
Despite AMD's marketing, you don't really need an AMD Ryzen 3950X for gaming. If all you do is game, you can use a less expensive AMD or Intel processor, and spend the savings on a better video card. If you are a hard-core content creator, where rendering and encoding time is a really big deal, where time is literally money, then you would be better off waiting for the upcoming 3rd Generation AMD Ryzen Threadripper processors that will have more cores, more memory channels and capacity, and more PCIe 4.0 capacity.
The target audience for this processor is someone who does some content creation, some development, perhaps likes to run multiple VMs or containers, and also likes to do some gaming. It is a versatile, relatively affordable mainstream consumer processor (compared to an HEDT system) that has the performance and capacity to handle most common workloads very well.
To be clear, most people don't really need to go this high up in the desktop stack to get great general purpose desktop performance. You can use something like an 8C/16T AMD Ryzen 7 3700X or even a 6C/12T AMD Ryzen 5 3600 for a lot less money. If you are running an older Intel 4C/8T desktop processor including as new as a Core i7-7700K, moving to even a lower-end AMD Zen 2 processor system is going to be a substantial upgrade.
Selected Reviews
Here are some reviews to watch and read.