It is T-SQL Tuesday time for February 2018, which is being hosted by Aaron Bertrand. One of the choices that Aaron offered was to write about something you are passionate about, outside of the SQL Server or tech community.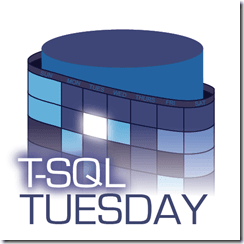 Making Beer at Home
About 18 months ago, encouraged by my friend Mike Witcher, I became somewhat serious about making beer at home. This was not my first foray into making beer, since I had made about four small two-gallon batches of beer with a Mr. Beer kit about fifteen years ago. Many home brewers get their first start on Mr. Beer kits, which let you make drinkable beer at a very low starting cost, as long as you can follow some basic directions and you pay attention to cleanliness and sanitation.
Mr. Beer Little Brown Keg
Using a Mr. Beer kit to make beer is kind of like making mac-n-cheese from a box. It is possible to make beer while having very little idea what you are actually doing. It is also very similar to using Microsoft Access as a database, which is something you might do as a beginner, that you don't want to admit to later!
Fast-forward to 2016, and I was thinking about making larger batches of beer, using somewhat more serious equipment. I had met Mike when he bought my previous house in Parker, and we had become friends. He was a veteran home brewer, with many years of experience under his belt who urged me to give it a try.
I was already aware of The Brew Hut, which is the largest home brew supply store in Colorado. I made a couple of reconnaissance visits to the store, before I ended up buying a "Super Deluxe" brewing equipment kit very similar to this one.
Beginners Super Brewing Equipment Kit
A kit like this gives you just about everything you really need to make five-gallon extract batches of beer. This includes a couple of carboys, a four-gallon brew kettle, an immersion chiller, a thermometer, a hydrometer, and various other small accessories. This type of kit lets you do a partial boil, usually on a stovetop in your kitchen, which is often how brewers first really get started (after Mr. Beer). Many brewers successfully use kits like this for many years, with very good results. It is not necessary to spend a lot of money on equipment.
Of course, since I am a gadget nut, I could not resist immediately upgrading my brewing equipment, even before I brewed my first batch of extract beer! My first upgrades were a 10-gallon Anvil brew kettle, and an Anvil High Performance burner, with leg extensions. Anvil is the mid-level line of equipment from Blichmann Engineering, endorsed by John Palmer, who is the author of How to Brew. I also bought a 7.9 gallon FastFerment plastic conical fermenter.
Armed with this fancy new gear, I made a couple of Brewer's Best extract batches (a Milk Stout and a Belgian Tripel), that seemed to turn out pretty well (at least to an uncritical audience of family and friends). Encouraged, I took an "Introduction to All-Grain Brewing" class, subscribed to several brewing magazines and bought a number of home brewing books. I also made the switch from using bottles to using five-gallon kegs to package my beer.
Then, I made a crazy, early jump to all-grain brewing on batch #3, brewing a pretty challenging Scottish Wee Heavy with a 26lb grain bill! Amazingly, this first all-grain batch turned out pretty well (even though it took me about six hours on brew day). I made one more extract batch (which was a gift from someone), but it has been all-grain ever since.
Equipment Fever
The equipment upgrade fever kicked into high gear during the autumn of 2016, which actually made my brewing days harder as I was learning the quirks of a new piece of equipment with nearly every new batch, while I was still very much a beginning brewer.
Batch #5 was a New England style IPA, using a new Ss Brewtech 7-gallon Chronical Brewmaster Edition stainless steel fermenter and a 10-gallon Infussion Mash Tun. This batch was all late hop additions and then dry hopping in the fermenter.
7-Gallon Chronical Fermenter 10-Gallon Infussion Mash Tun
Later that autumn, I built a wooden brewing cart that currently houses my three vessel brewing system. This includes a 15-gallon kettle that I use as a hot liquor tank (HLT), a 10-gallon mash tun (MT), and a 10-gallon Ss Brewtech Brewmaster Edition boil kettle that sits on a Blichmann HellFire burner. The boil kettle is set up so I can do a whirlpool for late hop additions and during wort cooling. I have two Blichmann RipTide pumps for moving strike and sparge water from the HLT to the MT, and for running the whirlpool.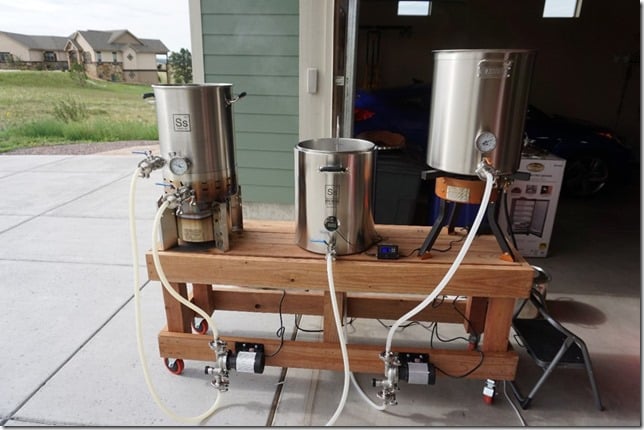 Brewing Cart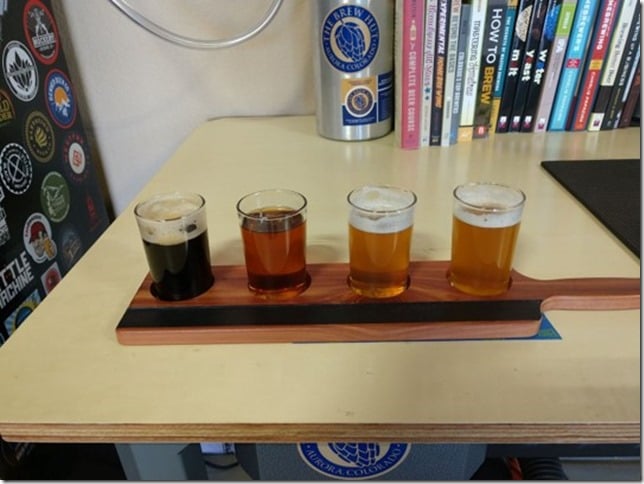 Beer Samples
Since then, I have joined a local home brew club (The Parker Hop-Aholics), and I have been entering lots of local home brew competitions. I even managed to win a medal at a very small competition in Castle Rock. Entering competitions is a great way to get unbiased feedback and recommendations for improvement from certified beer judges. It also gives you more incentive to improve your brewing skills.
First Medal 14-gallon Fermenter in Action
I have brewed 16, five-gallon batches of beer so far (which is almost 2.5 barrels). Every batch has the details recorded in a log book.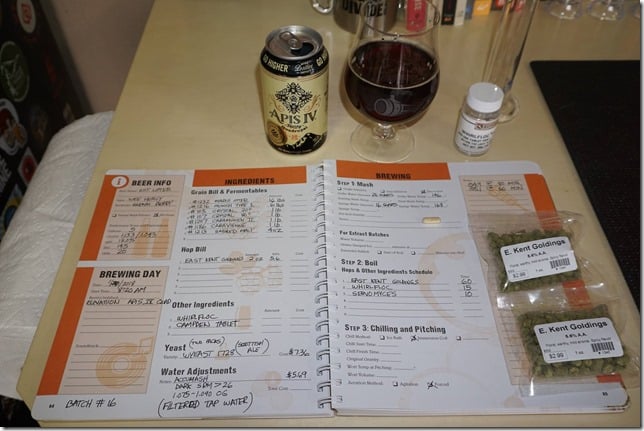 Brewing Log Book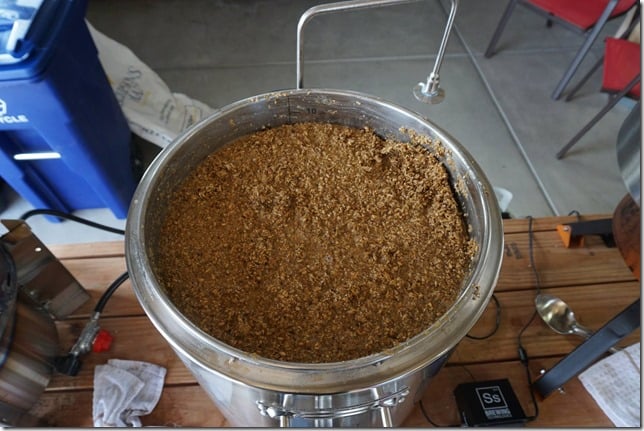 Mash Tun Full of Grain
Even though this setup may seem pretty complicated, I am still just a beginner with a lot to learn. Brewing beer is similar to cooking or baking, where the basics are pretty easy, but becoming a master takes a lot more time and experience. The reason I enjoy brewing so much is because of how it makes me feel during and after the process. I love the smell of the grain during the mash, and how sweet it tastes as the starches are converted to sugars. The smell of the wort during the boil is also very nice.
The whole experience of a brew day is a lot of fun (and a lot of work). Going through all of the steps, trying to hit your numbers, as you listen to good music and drink some good beer is very enjoyable! Doing all of the required cleaning and sanitizing is not as much fun, but it is easier with a large sink and hot water out in my garage. After brew day, you get the chance to sample your beer as it is fermenting, and then finally get to taste the final product a week or two later.
February 19 Update:
I found out over the past weekend that I won medals in two different home brew competitions in Colorado. The first was a silver medal in the 13th Annual Peterson AFB Home Brew Competition for a 25C:Belgian Golden Strong Ale (in Table 16). The second was a gold medal in the Sweethearts Revenge 2018 for an Imperial Pumpkin Stout in the 30B: Autumn Seasonal Beer category.