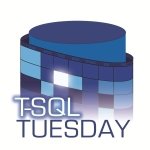 This week I'm in Chicago for our last SQLskills Immersion Event of the year, IE0, which is one of my favorite classes to teach.  Jon is on right now talking about security, and I'm up next to talk about backups.  There's a bit of irony here in that today's T-SQL Tuesday is hosted by Andy Yun, whom I was fortunate enough to see last night at our Happy Hour.  I got to catch up with Andy and hear about his first Summit presentation, and he was talking about his path to becoming a presenter (I'll let him share that story).
So when I read about today's TSQL Tuesday, I realized I should chime in 🙂
I've written about presenting before:
There's a lot of information in those posts.  I re-read all of them, and everything still rings true.  What can I add that's new?  A note about comfort.
For some of my presentations, I have gotten to the point where I am incredibly comfortable with the material.  This comes with having presented the content many, many times, and a lot of real-world experience.  But I don't ever let the material, or my delivery of it, get stale.  I am constantly tweaking my demos and often my slides.  Rarely do I re-write something entirely, but I will change the order of slides because I think of a better way to present a concept.  I will add something to a demo based on a question, or because I think it will help solidify what I'm trying to teach.  In short: I don't stop evolving a presentation.  The core content may be the same, but I can always do better.
Don't settle, don't get too comfortable.  It's not about perfection, it's about improving.