Today we got really up-close-and-personal with the bald eagles up here in Haines, AK. It was a toasty 22F out on the river delta but the light was stunning, coming directly from behind us over the mountains, but without being too glaring.
Click on all photos for 1024×768 enlargements.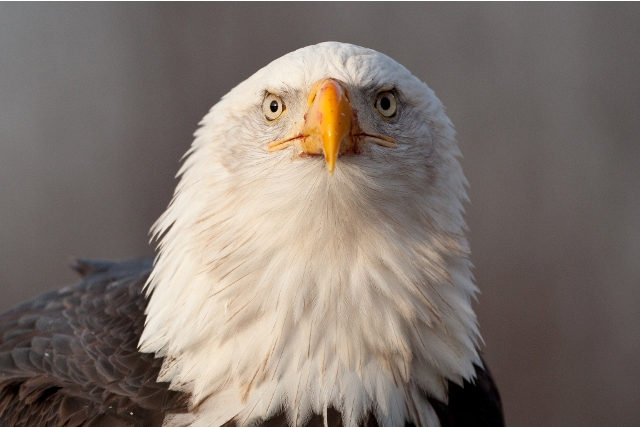 This was taken with my Canon EOS 5D Mark II using a Canon EF500mm f/4.0L IS lens, 1/2000sec at f/4.0, ISO 400.
This morning before we left there was a pretty spectacular sunrise, as these two shots below show, taken from the front porch of the B&B we're staying at. Both were taken on the 5D using a Canon EF70-200mm f/2.8L IS II lens, 1/400sec at f/2.8, ISO 200 at 200mm.
In the morning I was trying for some portrait shots (like the one at the top of this post). I have far too many to post as the eagles have a huge variety of facial expressions, but the two below are pretty indicative – grumpy and aggressive! These two shots are both with my 7D and the 500mm f/4L IS lens, with 1/320sec and 1/400sec at f/4.0, ISO 400, respectively. If you go to the higher resolution image of the screaming bird, you can see a puff of breath just above the right-hand of the bird's head – it was *cold*!
In the afternoon I was messing around with reflections on the river, trying to be artistic, which involved hand-holding the camera and wading into the river to get close to the birds… these three were taken with the 5D and an EF300mm f/2.8L IS lens. From left to right the exposures are 1/1000sec, 1/2500sec, 1//800sec at f/4.0, ISO 400, respectively.
I just love the middle shot above as the eagle swooped over the river.
More shots to come tomorrow hopefully – another great day in the weather forecast!