Christmas comes but once a year… really? Then mine just came early on this afternoon's UPS truck.
The very nice folks at Fusion-io just sent me two of their fully-loaded top-of-the-line ioDrive Duos with 640GB of solid-state flash memory in each. This is really extra-nice of them because on Dell's Small Business website they're currently retailing for $12800 *each*. Expensive? Yes. Worth it? That's what I'm hoping to prove.
There's nothing like expensive, pretty hardware to get me excited… here's what they look like: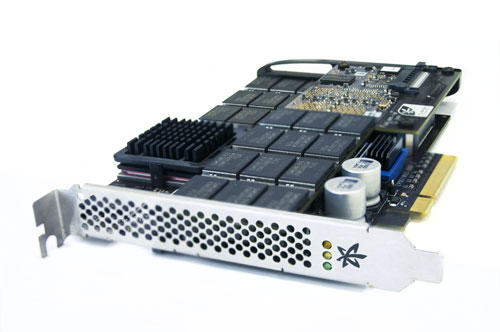 Now, above I said 'expensive', and these are, but they pack some pretty amazing specs in terms of read/write bandwidth so you're getting a lot of bangs for you bucks. But where does it really make sense to drop the bucks for the biggest bangs? To answer that I'm planning to do a whole series of blog posts as part of my benchmarking efforts to investigate which operations can benefit the most from these drives. With 1.2TB of SSD storage I'll be able to plug these into one of my test systems here and run comparisons against 15k SCSI and 7.2k SATA drives.
Anyway, there's a lot of hype about the speed of SSDs, and also a lot of angst about SSDs not being Enterprise-ready. I don't agree with them not being Enterprise-ready – in fact, fellow-MVP Greg Linwood, who runs (among other things) our partner company SQLskills Australia, already has a bunch of customers with Fusion-io drives deployed in their enterprises successfully. As with any critical hardware infrastructure (especially cutting-edge stuff like this), the key to success is having everything setup correctly so I'll be blogging about all my experiences with them.
To summarize, I'm very excited! I've been wanting to get my hands on some serious SSD hardware for a couple of years now so I can do some *real* testing – it doesn't get better than this!
Shoot me an email or leave a comment if there's something you're interested in seeing tested.
PS Full disclosure: yes, of course Fusion-io sent me these because they're getting publicity from me blogging about them, but we don't have any editorial/veto agreement. I want to be able to recommend these to our enterprise clients and the only way to honestly do that is to play with them myself – so it's a win-win for both of us. And you guys get to test them vicariously through me, so it's a win-win for you too :-)
Stay tuned…