A couple of weeks back I kicked off an off-topic survey about which internet browsers and email clients people use. Here are the results: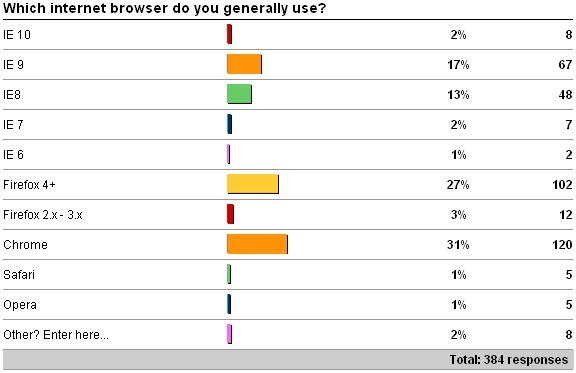 The "Other" results are:
2 x "Chrome, FF4, IE789"

2 x "Firefox 5"

1 x "Avant"

1 x "Dragon and IE9 for flash content"

1 x "Home Firefox 5.0.1 and Safari (iPad) / Work IE 7"

1 x "Iron"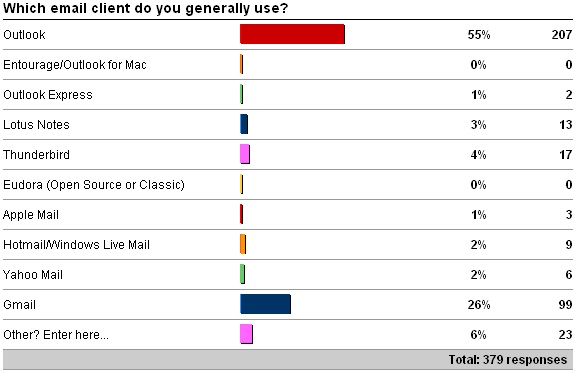 The "Other" results are:
12 x "Home gmail / work Outlook"

4 x "Gmail for private / Outlook 2010 for work"

2 x "Work – groupwise / home – gmail"

2 X "Zimbra"

1 x "GroupWise for work"

1 x "Groupwise for work / yahoo mail for personal"

1 x "Home Thunderbird / work Outlook 2010"
Summary
Personally I use IE8 on my laptop (don't use any other computers at home or work), plus Safari on my iPhone and iPad2. For email I use Thunderbird because I can't stand Outlook and wanted something like Outlook Express (in fact the only reason I agreed to upgrade to Windows 7 last year was because I found Thunderbird).
Interesting results. Outlook is definitely the most common email client and I'm surprised that Gmail is so far ahead of the other free email providers. The browser results are really split three ways (as the total number of IE users is 35%) between IE, Chrome, and Firefox – I wonder how many of the non-IE users are because Chrome/Firefox is better, or they just don't want to use IE on principal.
Hopefully these results will give some of you insight into where to focus blog/app compatibility.