Nothing technical in this blog post for a change, just some info about the first trip of the year for us. We're in China for two weeks, teaching classes at the Microsoft campuses in Shanghai and Beijing. We flew in Sunday afternoon on a direct flight from Vancouver, Canada which was just wonderful. When I came to Shanghai in September 2006 for TechEd I flew to Tokyo first and then on to Shanghai but the direct flight is great. We flew Air Canada and their business class beats the crap out of United's, which we usually fly – much bigger seats with much more legroom.
Last time I was here I stayed at the Le Meridien She Shan which was about 20 miles outside the city center. This time we booked a room at the Grand Hyatt Shanghai which is right in the middle of the city. The hotel is amazing – it starts on the 53rd floor of the Jin Mao Tower in Pudong – the new side of Shanghai. Our room is on the 77th floor looking out over the Huangpu River and over towards The Bund. Here's the view from our room this morning – pretty stunning! (Click on it for a bigger version)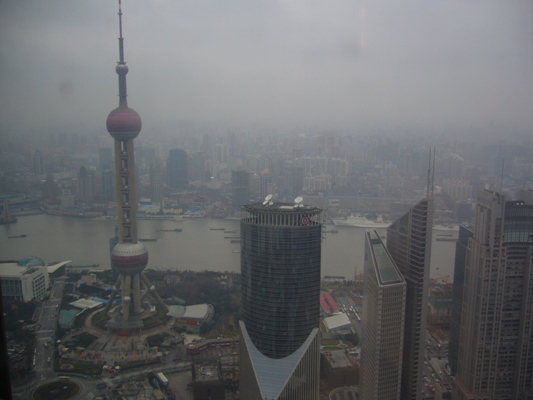 The space-age looking tower on the left is the Oriental Pearl TV Tower – now a famous Shanghai landmark.
Today was our only free day in Shanghai so we decided to sleep in, have breakfast, and then take a private half-day tour of the city. We had a great guide (Marco) who took us round a few cool places and was a fountain of knowledge about Shanghai and Chinese culture. First up was the 400 year old Yuyuan Gardens in the old part of the city (built by a government official as a present to his elderly parents) and then on to the Jade Buddha Temple (built in 1882 to house two solid jade statues brought back by a monk from Burma) – quite different to the Hindu temples we'd seen on our dive trip to Bali at the end of 2006.
Later in the week I've got some good blog posts lined up on new 2008 features. For now, it's dinner time so I'll leave you with a shot of Kimberly and I just before heading into the Yuyuan Garden. (Again, click for a larger version)