(Sitting in the back of the class while Kimberly's teaching and I'm cranking through my massive backlog of blog posts.)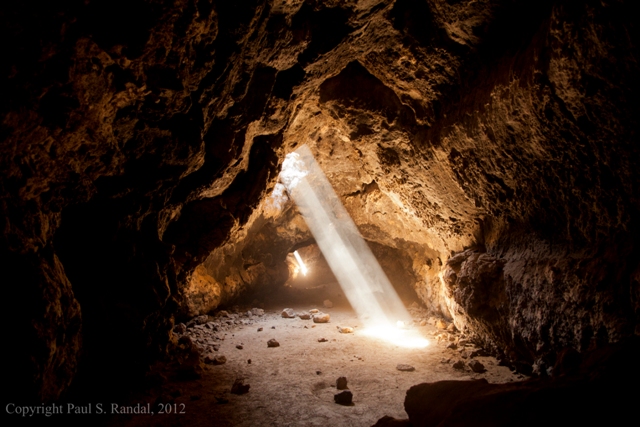 Inside a lave tube with light streaming through ceiling holes and through the dust.
After SQL Connections at the start of April in Las Vegas we drove across to San Diego for a friend's birthday party. We decided to bring all our camera gear along and drive through the Mojave National Preserve, renting a 4×4 so we could go off into the dirt roads where necessary.
It's a pretty cool place – vast, of course – and one of the few times I've stood and had tens of miles of flat ground around me in all directions with nothing except scrub bushes and a small road, and deep, deep blue sky overhead.
There's a good PDF map of the Preserve on the National Park Service website here and I recommend perusing their site before going.
We entered the Preserve just off I-15 west of Vegas at a place call Nipton and headed down to the information center at Hole-In-The-Wall. This was a 20 mile drive on a dirt road, great fun in the 4×4 with wheel ruts throwing the SUV around (I love driving off-road, and fast if possible :-). Lots of bird life around and some ground squirrels too. At Hole-In-The-Wall (named after the more famous bandit hide-out in Wyoming) there are cool rock formations and rock-climbing routes. We drove back up to the main road and headed along to Kelso Depot, which used to be a major locomotive depot for the Union Pacific Railroad during WWII. It provided extra locomotives for the ore trains heading east – now it's a really small town, but has a great little restaurant in the information center. Try the chili – it's excellent. We then headed back north to I-15 through the Cinder Cone Lava Beds – lots of giant lava flows and cinder cones from volcanic vents. Turning off onto a tiny road (Aiken Mine Road) we headed out into the lava to find a lava tube that you can get down into and explore – this was fabulous and the highlight of the day for sure. It's marked on the map I linked to above.
After the party, the next day we drove down to San Diego airport and stopped at the flying park north of the city. This is a flying club and launch area set on high sea cliffs over the Pacific with excellent thermals for hang-gliding and parascending. At one point I counted over 30 flyers in the air. If we'd had more time we'd have signed up for some tandem flights.
All in all a great road trip, albeit a little short. We're going to make a point of driving to more places in future – flying makes you miss so much!
All photos were taken with a Canon 5D Mark II with a 24-105mm f/4L lens shooting fully manual. It took me a while to figure out, but once you have the shutter speed/focal-length/'film' speed triangle worked out in your head, you'll never go back from fully manual control of your camera.
Click on the photos for a 1024×768 version. Full-size versions available on request.
Below: Preserve entrance sign with scrub to the horizon and then mountains; abandoned cabin in a small homestead in the hamlet of Cima.
Below: Kimberly in front of the rocks at Hole-In-The-Wall; a cactus about to flower – we were just a bit too early for the flowering to be in full swing.
Below: the main cavern inside the lave tube. The light was just incredible, with powerful sun rays coming through the dust inside the cavern. It kind of reminded me of the scene in Raiders of the Lost Ark where Indy goes down into a chamber in the Egyptian city and a ray of light comes through a skylight, through a gem he's holding and lights up a location on a map of the city. The second photo is of a smaller skylight with a really intense beam of light. Just stunning.
Below: the blocked-up entrance to an old mineshaft – maybe part of the old abandoned Aiken Mine?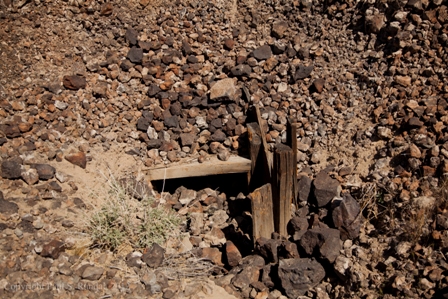 Below: flyers over the Pacific just north of San Diego. The second photo has 8 flyers in!