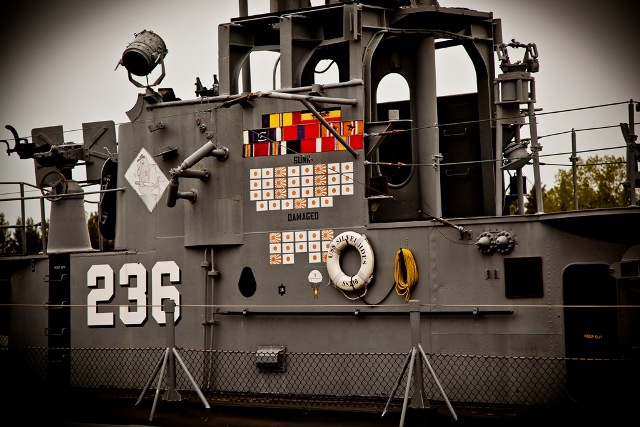 I think this is a fitting blog post for Memorial Day here in the US. Last weekend we had some spare time in Michigan between client visits in Grand Rapids and Houston so we drove over to Muskegon on the east shore of Lake Michigan and visited the Great Lakes Naval Memorial and Museum. It's the home of the USS Silversides, a 311ft 1500 ton submarine that saw extensive service in WWII, sinking 23 enemy ships totaling more than 90,000 tons. You can read an extensive history of the submarine on Wikipedia. The cool thing about the museum is that you can get inside the submarine and go through it on your own time.
I'm a huge submarine fan as my Dad spent a long time on submarines (controlling the nuclear reactors) in his 32 years in the Royal Navy and I lived my childhood very close to the nuclear submarine base at Faslane in Scotland (Helensburgh is very much a Navy town). I spent a lot of time in the base itself over the years and have been on numerous submarines. Dad was very interested when I called him from the deck of the Silversides last weekend and is looking forward to these photos.
All photos are taken with a Canon EOS 5D Mark II (shooting RAW) with a Canon EF 24-105 f/4 L IS lens. I then used Lightroom 3 to do some white balancing and also played around with some free Lightroom presets I downloaded from onOne Software. All the photos here are using their WOW-Edge 10 effect which works really well for these photos packed with metal surfaces and the shadowy lighting on the sub. It also does a vignetting effect too.
Click each photo for a 1024×768 version.
Below: The forward torpedo room – look how there are bunks there in the room too, making use of all available space.
Below: battle notes in the officer's mess; dedication plaque.
Below: one side of the control room; diving controls.
Below: ballast tank controls; targeting indicator.
Below: engine speed controls (linked to the engine room); hatchways are pretty small for us 6ft+ tall people (although the deckheads were fine).
Below: ballast tank guages; the other side of the control room.
Below: some crew quarters; engine room. The submarine is driven by electric motors from its batteries. These engines just charge the batteries, and the engines are still operable.
Below: engine details.
Below: maneuvering room; aft torpedo room.
Hope you enjoyed these!