Over the last 18 months a group of SQL Server MVPs, led by Paul Nielsen and including Kimberly and I as editors, have been working on a book, responding to a challenge from Microsoft CEO Steve Balmer for MVPs to give something to the wider community than just our technical one. Now the book is available to purchase, with all profits (minus minimal expenses of the publishers) going to War Child International.
Buy the book, increase your knowledge, and help the children.
Rather than come up with my own blurb about the book's contents, I'm re-using the excellent write-up from the MVP blog, with their permission.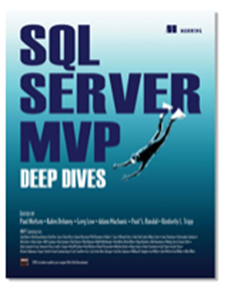 With contributions from 53 SQL Server MVPs, SQL Server MVP Deep Dives, is organised in 5 parts: Design and Architecture, Development, Administration, Performance Tuning and Optimisation, and Business Intelligence. Within each part, you'll find a collection of concise and focused chapters that take on key topics like mobile data strategies, Dynamic Management Views, or query performance. The range of subjects covered is comprehensive, from database design tips to data profiling strategies for BI. The book features:
Nearly 60 chapters focused on topics crucial for any SQL Server professional

Edited by

MVP Paul Nielsen

,

MVP Kalen Delaney

,

MVP Greg Low

,

MVP Adam Machanic

,

MVP Paul S. Randal

, and

MVP Kimberly L. Tripp

Appropriate for SQL Server professionals of all levels

Coverage of new features in SQL Server 2008
Whether you're just getting started with SQL Server or you're an old dog looking for a few new tricks, SQL Server MVP Deep Dives belongs on your bookshelf.
The authors of this book have generously donated 100% of their royalties to support War Child International. War Child International is a network of independent organizations, working across the world to help children affected by war. War Child was founded upon a fundamental goal: to advance the cause of peace through investing hope in the lives of children caught up in the horrors of war. War Child works in many different conflict areas around the world, helping hundreds of thousands of children every year. Visit www.warchild.org for more information.
You can purchase the book by clicking here.