It's been six weeks or so since I posted anything technical here – my summer vacation from being online, and your summer vacation from having to digest my ramblings!
It's also been a loooong time since I wrote a detailed Where In The World Are Paul and Kimberly tagged blog post, usually deferring to Facebook albums instead. But this summer we took a seriously cool trip that I want to share in some detail, so this is the first of three posts. This one's on Alaska, the next one will be on the Russian Arctic (part of the same trip), then one on Nome, AK and its environs, and the last one will be on Beijing (business trip we took straight afterward).
Click on the photos for a larger version. I make no apologies for the huge number of photos in this post :-)
As always Kimberly planned our trip meticulously – I hate doing that stuff and Kimberly loves it. It started out as just doing the Russian trip but then we decided to wrap two weeks in Alaska around it and take the kids along for the first part, as none of us had been to Alaska before. Our rough itinerary in Alaska, starting mid August was:
Fly into Anchorage from Seattle

Spend a day driving up to Denali National Park (238mi) and hang out there for three nights

Spend a day driving down to Seward (363mi) and hang out there for three nights

Spend a day driving to Homer (169mi) and hang out there for three nights

Head back to Anchorage, send the kids back home

Fly to Nome, AK and then embark on Russia trip (more in second post)

Two weeks later head back from Russia to Nome and hang out there for three nights (more on that in the third post).
The map below gives you an idea of where we were in the first part of of the trip in Alaska (with thanks to Google Maps).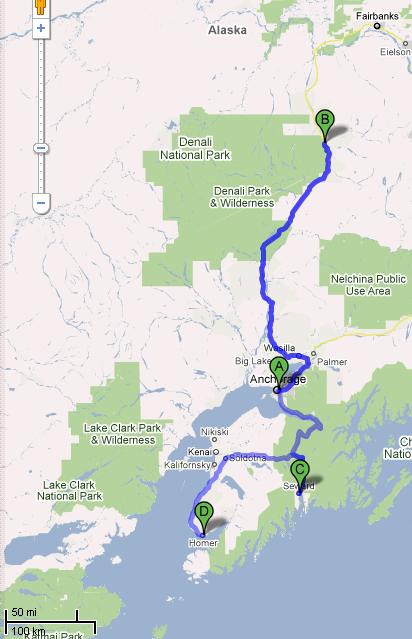 Anchorage – Denali
My first view of Alaska was mountains and sea lochs peeking through the low clouds from our Continental flight up from Seattle – it looked drab and misty. We picked up our rental SUV (GMC Yukon Denali XL, just like mine at home) and headed to the Captain Cook Hotel – nice place, recommended. The next morning we headed up to Denali National Park. The day started out dry and then became pretty drab so we took a detour about half way to the little town of Talkeetna. It's a bit touristy but has a couple of old trapper cabins to explore, and some good places to eat. We lunched at the Kahiltna Bistro next to the railroad line – great burgers and beer! The clouds started to clear as we approached Denali giving some spectacular photos, then we spotted the Anchorage-Fairbanks train and chased it for a while (it goes *really* slowly). Our good friend and fellow MVP Don Kiely drove down from Fairbanks to hang out with us so we met him for dinner at the Grand Denali Lodge, which is a complete eyesore but has a great view and also does good food and beer. We stayed about 7 miles south of the Park entrance at the Denali Cabins – rustic but recommended.
Left to right top: a moose wandering around in downtown Anchorage, posing in front of the train in Talkeetna, awesome clouds and sun. Below those are two shots of the train we chased.
Denali National Park
Next morning we all headed into the Park to check out the excellent visitor center and the sled dogs. In the winter much of the travel around the park by the rangers is by sled dog, and the sled dog kennels are open every day. Incidently, Don has 28 dogs, many of which are huskies, and runs a charity for abandoned sled dogs – Second Chance League Sled Dog Rescue – check them out and give a donation!
Below are the girls getting up-close-and-personal with some of the Park huskies.
After that Don had to head back up to Fairbanks and we had a few hours to kill so we drove into the Park as far as you can in a private car (about 14 miles).
Below left to right: more fabulous scenery, sun-dappled water, caribou stag.
After lunch we'd arranged to charter a helicopter from Era Alaska Flightseeing Helicopters to do their Glacier Landing Expedition. It takes off from the Nenana River (Athabascan for 'good place to camp') and heads off into the enormous Yanert Icefield, where the views are just *stunning*. We landed at the top of the glacier and had about 20 minutes to wander around. Absolutely phenomenal!
The next day we took a 13 hour coach tour (through Denali Backcountry Adventure) into the Park (the only way you're allowed in), all the way to the end of the road at Kantishna Lodge, 92 miles in. It sounds like a bit of a nightmare, but we were the first ones on the bus at 6am so got excellent seats at the front. We saw all the big 5 – bears, caribou, wolves, Dall sheep, moose – thanks to the crappy weather in the morning. I didn't take any photos that day – Kimberly will post some.
Denali – Seward
After not having seen Denali herself (only tourists call it Mount McKinley) we'd resigned ourselves to missing out, but just as we went past Cantwell about 20 miles south of the Park, the weather totally cleared and we had stunning views all the way down to Seward. Pretty long drive (although not as long as Seattle-Banff in one day – 700 miles) but the kids never complained once. Btw, if you want somewhere good to eat, don't stop at the Denali Princess Lodge, the food and service sucks – the only bad place we ate at.
Below left to right: Denali from Cantwell, various jagged mountains from a rest stop, Denali from 100 miles further south.
Below left to right: Denali in my rear-view another 50 miles south, the view from our excellent cliff-top cabin in Seward, just as the sun was going down.
Seward
Seward is an excellent little town down on the Kenai Peninsula about 120 miles south-west of Anchorage. For breakfast, go to the Marina Restaurant across the from the harbor. It's a small greasy-spoon cafe which the locals use, but great breakfasts. For dinner you won't beat Ray's Waterfront for excellent food and beer – reservations essential as it's the busiest place in town. Kimberly had organized a cool place to stay called A Cabin On A Cliff which suited us perfectly. We heard from the locals that it had rained for 60 days straight before we arrived – how lucky was that?!? The weather stayed perfect the entire time we were in Seward and Homer.
The next day we went on the 6 hour National Park Tour with Kenai Fjords Tours. I can't recommend this strongly enough – you *have* to do this if you're in Seward. The wildlife and scenery were stunning. We saw sea otters, bald eagles, puffins, guillemots, orcas, Dall's porpoises, Steller sea lions and humpback whales. We had a brand new tour boat with about 80 people on board, but plenty of space, and it zipped along at 30knots (twin 1500hp CATs on a catamaran – from talking to the captain).
Here's the route that we took (borrowed from their website):
Lots of photos of scenery, orcas, us, sea lions, and various glaciers are below. We got to 1/4 mile from the Aialik Glacier (it's not permitted to go closer because of the danger from calving ice causing huge waves) and hung out for about 25 minutes. The glacier was just enormous – about 100 feet high and a mile across. In the final photo I managed to capture a large chunk dropping into the water – it makes a huge cracking noise as it tears away from the glacier.
The next day we took in the excellent Alaska SeaLife Center (the only public aquarium in Alaska) and then headed out to the Exit Glacier (from the Harding Icefield), which you can walk up to on foot.
Homer
The next day we drove from Seward over to Homer on the other side of the Kenai Peninsula. Kimberly had rented a house right on the tip of the Homer Spit – a 5 mile long spit in Kachemak Bay. We fell in love with the place straight away… We ate every night at the Land's End right on the end of the spit (think sea otters and seals while you eat) and you have to go visit the Salty Dawg Saloon – the inside is plastered with dollar bills, quite neat.
Below left to right: our friend Jackie who owns the excellent Boardwalk Bakery on the spit, unloading the catch, outside the F/V Time Bandit store (I'm a huge Deadliest Catch fan…)
Below left to right: heading out to do buoy maintenance (we'd watched them assembling an awesome looking solar-powered buoy), the ferry arriving from Dutch Harbor (where it had left 3 days earlier) – part of the extensive Alaska Marine Highway ferry system, the view from our rental house across the bay into the wilderness area (with a seal at bottom right).
Walking with the Grizzlies
The undoubted highlight of this first part of our trip was the grizzly bear expedition (and that's up against some very stiff competition from the glacier helicopter tour in Denali and the Kenai Fjords tour from Seward). We flew with K Bay Air (totally recommended) down into Katmai National Park and landed on a beach. We then hiked into a river delta where there were about 15 grizzlies fishing for salmon. We got within about 40 feet of them and they weren't in the least interested in us. There has never been a case of a grizzly attacking a group of 6 or more people (there were ten of us) as we appear so much larger than them. We saw grizzly cubs and at one point I counted 13 bald eagles in a 25-degree arc of binocular viewing. Absolutely stunning! Look down to the photo I took over the kids' heads and you'll see just how close the bears were to us – no massive zoom lens tricks here!
Below left to right: view of Homer spit from 2000ft, cool ridge line heading down to Koyuktolik Bay, Kimberly and our friend Jackie.
Below left to right: the monsters with their polar-bear Global Warming Sucks hats they picked out, the active volcano on Augustine Island, huge lagoon glacier in Katmai National Park.
Below left to right: mother grizzly and two 2010 cubs, this is how close they were, feeding a cub after gorging on salmon.
Below left to right: the two planes we flew in on with balloon tires for safe beach landings, Ushagat Island in the Gulf of Alaska, mountains in the Katchemak Bay State Park and Wilderness.
End of part one…
Finally we drove back up to Anchorage to drop the kids off for their flight back to Seattle (flying unaccompanied was one of the highlights of their trip!) – the Alaska Airlines stewardess told their Mom they were the best-behaved kids she's ever seen – that makes me proud. We then headed back into Anchorage to meet the rest of the group heading out to Siberia the next day. More on that in part two next week…
I hope you've enjoyed reading about our adventures and looking at the photos as much as I've enjoyed reliving it all putting this together. Drop me a comment and let me know if you have – I need the encouragement to do the next section – this one took me four hours! :-)