We've had a great week here in Dublin teaching our first public Immersion Event for a while – nearly 50 attendees spent the week with us exploring internals, performance, indexing, maintenance, and HA. Today's the last day where I'm teaching my favorite module on consistency checking and corruption recovery – excellent way to spend a Friday!
Yesterday was the 250th anniversary of the founding of the Guinness brewery by Arthur Guinness. The company organized a worldwide toast to Arthur at 17.59 Dublin time – brilliant marketing campaign – I wonder how many million extra pints of Guinness were drunk last night? Here's a photo Bob Duffy (our good friend and fellow SQL Server MVP) from our event partners Prodata sinking a nice cold pint after spending the day with us in class – Kimberly even tried a sip!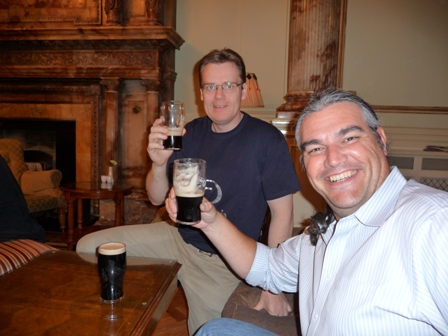 Tomorrow Kimberly and I fly over to Poland to take part in the 2009 Microsoft Technology Summit (and check out some of the excellent old architecture) – a new country for both of us.
Cheers!