(Meeps, one of our seven cats, helping with the selection process…)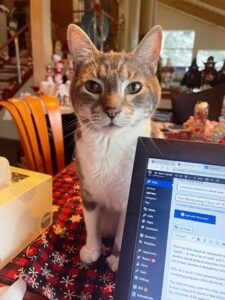 Since my first round of community mentoring back in 2015, when I mentored 54 people for six months, I've been asked periodically whether I'd do it again. My answer was always something like 'maybe – it was a lot of work' and I didn't think I'd have the time. Then when the pandemic hit in 2020 I wanted something apart from vegetable gardening to help my mental health, so I did another round of mentoring that stretched through the end of 2021. I'd resolved myself to not doing it again for a few years, but after going to PASS in November, and meeting face-to-face some of my former mentees I changed my mind and put out a call for mentees on December 1st.
Why do I do it? I love mentoring people. Microsoft trained me to be a people manager, as that was something I really wanted to do as part of my career. I was also part of the cross-company mentoring program within Microsoft, where I mentored random people from outside my management chain.
The rules for entry were very clear: post a link to a 'good' blog post as a comment on my post. No blog post link, not a valid entry. One of the reasons I make this a rule is that it encourages people to start a blog or to reboot a blog that's been languishing, and it worked well again! It also shows that those who want to be mentored are willing to put in some effort. You can read all the entries in the comments of the post I linked to earlier.
33 people posted a link and I'd decided to mentor 15 people. After narrowing down the pool, the list of people who qualified is:
Wondi Wolde
Anoop Agarwal
Vijay Samevadam
Yibo
Deepti Nayak
Rupen Anjaria
Marcin Wilczek
Vladimir
Simon Frazer
Sree Nair
Cristian Lefter
Jeff McDonald
Pedro Trejo
Mihailo Joksimovic
Lena B Oksa
Maria Bermudes
Radek Gaska
Gerald Wilkinson
Leon Spangenberg
Lucia
Matt Zuberko
Mike Biasetti
Jason Romans
Ben Fedit
Damien Jones
Tim Lewis
Mark
Peter Doyle
Sushant
Josh Handler
Jangack
Amy Abel
Arun Gupta
Wait – that's not 15 names, that's 33 names! That's right – I'll be mentoring everyone who had a valid entry. I just couldn't in all good conscience randomly exclude someone who wants some help and went to the effort of applying – I'm a sucker for helping people :-)
The second test for all the people on the list above is that they have to send me an email using the link in this post, preferably from a non-work email address (as we'll likely end up discussing your work), by the end of December. You don't need to say anything in the email – I just need an email address to contact you to kick things off – and for those people who were anonymous, you can stay anonymous if you want, just let me know which of the anonymous names you are.
I'll send the initial emails to everyone on January 1st or 2nd.
Congratulations to everyone on the list – it's going to be fun!