This is part two of my three-part series of posts about what I recommend on a visit to Scotland. I'm writing posts because I get asked a lot and this is easier than repeating myself a bunch of times.
You can get part 1 of the series here – dealing with Glasgow, Edinburgh, and Stirling, and general links to agencies and our past photo posts – and part 3 of the series here – dealing with driving tours of the west and north west.
Part 2: Isle of Skye
Some of the coolest places to visit in Scotland are the various islands. I haven't been to the Orkney, Shetland, or the Outer Hebrides (Lewis, Harris, etc) but I have spent several months of my life over the last 20 years exploring Skye (and I'm taking Kimberly and our girls there in July).
(Image borrowed from Lonely Planet – see here for their Isle of Skye guide.)
The Gaelic name for Skye is Eailean a' Cheo, which stands for Island of Clouds. It's a gorgeous place with high, jagged mountains (the Cuillin), fabulous sandy beaches, and breathtaking views. But it can also be very wet and windy, especially on the western side of the island that looks out over The Minch – the stormy body of water between Skye and the mainland and the Outer Hebrides. Winds up to 80mph have been recorded with average rainfall on the island of 60-80 inches. Best time for good weather is May.
When I first started going to Skye, you could only get to it by ferry, with the main ferry operated by Caledonian Macbrayne and taking a couple of minutes to go from Kyle of Lochalsh (on the mainland) to Kyleakin (on Skye). Now it's been replaced with an ugly bridge between the two that was the cause of much protest when it was built in the 1990s.
I'd advise you to take the ferry that goes between Glenelg and Kylerhea (here it is when we got off it in 2009). There's another multi-hour ferry that goes between Mallaig (on the mainland) and Armadale on Skye. I've never taken it.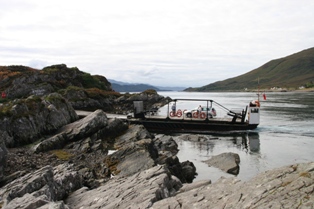 It's called the Glenelg ferry. This is a 6-car ferry and is the only surviving turntable ferry in Scotland. It's a far more romantic way to get to Skye than going over the bridge. The narrow waterway that the ferry crosses has one of the strongest tidal rushes in the UK – more than 12 knots during a Spring tide.
When you get to the other side, take the first right into a little car park. It's the car park for the short walk to the sea otter viewing hide – I've seen them before!
You'll notice that most of the roads apart from the main A87 up to the Outer Hebrides ferries at Uig, parts of the Portree to Staffin road, and parts of the Sligachan to Dunvegan road, are single track roads. They're excellent fun to drive in something like a Landrover and I advise renting an SUV of some kind. I get mine from Aberdeen 4×4 – they'll deliver/pick-up anywhere in Scotland and have a good range of quality cars/SUVs at decent prices.
Rather than write an essay on all the places to see in Skye, here's a bullet list with Wikipedia and other links for places I think are worth visiting. The drives to all these places are worthwhile and I'd recommend driving to the end of every road on the island to see all kinds of ruined castles, old churchyards, and great views.
(borrowed from Wikipedia)
(borrowed from Wikipedia)
Neist Point. From Dunvegan (going south) you take a small road on the right which leads out to Neist Point where there's an incredible walk over cliffs to the lighthouse.
The Three Chimneys. This is a celebrated restaurant and hotel in an old crofting building on the shores of Loch Dunvegan. Book in advance! On the same road from Dunvegan to Neist.
Talisker Distillery. This is the only whisky distillery on Skye and has a great tour around its famous and picturesque buildings. A must visit!
Enjoy!