One valid argument for considering a SQL Server upgrade sooner rather than later is the fact that the version(s) of SQL Server you are using in Production may be out of mainstream or even extended support. But what does that mean exactly?
It does NOT mean that out of support versions suddenly stop working. It does mean that they won't receive any more regular servicing updates in the form of Service Packs or Cumulative Updates. You may also have issues where 3rd Party applications are no longer supported on out of support versions of SQL Server.
To be fair, you can also run into the opposite issue, where 3rd Party applications are not supported on newer versions of SQL Server. Figure 1 shows the relevant support dates for SQL Server 2000 through SQL Server 2016.

Figure 1: SQL Server Support Dates
If your SQL Server version is out of support, it is also likely that the version of Windows that it is running on will be out of support. Figure 2 shows the support end dates for Windows Server 2003 up to Windows Server 2016. Both Windows Server 2012 and Windows Server 2012 R2 will fall out of mainstream support on October 9, 2018, which is not that far away as I write this. From a support perspective, Windows Server 2016 gives you a lot more time in a supported state.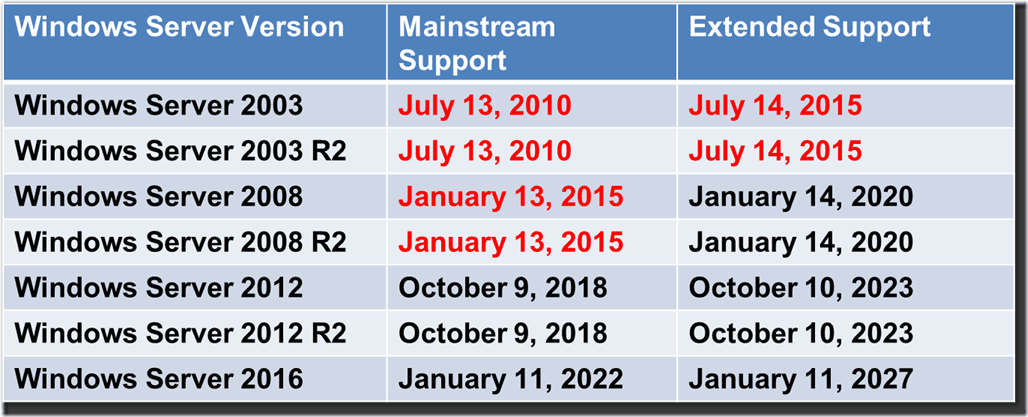 Figure 2: Windows Server Support Dates
Microsoft recently announced a new program called Premium Assurance, which lets you add six more years of product support to 2008 or newer versions of SQL Server or Windows Server, for an escalating annual cost (based on when you purchase it). The annual cost is a percentage of the original total license cost, that went up to 7% on August 1, 2017. The cots will go up to 9% on July1, 2018. This program is an add-on to Software Assurance. This is a pretty expensive option that I would not prefer to use, for both economic and technical reasons, unless I had no other choice.
Additional Resources
My new Pluralsight course, SQL Server: Upgrading and Migrating to SQL Server 2016 has just been published. This is my eleventh course for Pluralsight, but the complete list of my courses is here.
Building on this online course is a new three day class, IEUpgrade: Immersion Event on Upgrading SQL Server, taught by myself and Tim Radney. The first round of this course will be taught in Chicago from October 11-13, 2017.
Finally, I will be presenting a half-day session called Migrating to SQL Server 2017 at the PASS Summit 2017 in Seattle, WA from October 31- November 3, 2017.
Here is a link to the complete series about upgrading SQL Server.