For the last few years, I have always had a personal virtual playground for SQL Server setup on my laptop that allowed me to not only learn about new features in SQL Server, but also demonstrate complex topics hands on during presentations. I recently had to rebuild my playground from the ground up and as a part of doing this; I decided that I would blog about all the steps I took to build a completely FREE environment to play with SQL Server, including a virtual iSCSI "SAN" to support failover clustering. I have been using VMware Workstation personally for the last few years as the platform for my playground, but only because I received a free license a few years ago when I spoke about virtualizing SQL Server using ESX at the VMware Open Forum in Orlando, FL. One of the requirements for building this playground is that the virtual machines have to support 64 bit guests, which is not supported by Microsoft Virtual PC but is supported by VMware Workstation. However, as much as I love my copy of VMware Workstation, it isn't free and you may not have the budget to purchase it as a base platform, so for the purposes of this series I decided to go with VirtualBox, which is a completely free alternative that also supports 64 bit guest VMs.
To get started you are going to have to download and install VirtualBox from their site:
While we are covering downloads, the following additional items will be needed to setup the environment:
Windows Server 2008 R2 with Service Pack 1 Evaluation Edition
SQL Server 2008 R2 Evaluation Edition
SQL Server Denali CTP3
Microsoft iSCSI Software Target 3.3 for Windows Server 2008 R2
VMware ESXi VSphere 4.1 Evaluation
With VirtualBox installed, I start out by building a "base" VM installation that I clone to create all of the other VMs that I need in my playground. By creating a standardized "base" or template VM I save a ton of time in the long term by not having to install an patch Windows Server 2008 R2 a half dozen times, I can do it once and then by using the sysprep functionality in Windows, I can reuse the image for each of my servers. I can also add the basic set of features to the template, for example .NET Framework 3.5.1, Failover Clustering, and Multipath I/O to keep from having to manually add them to my VMs that specifically need them. Some of the VMs that get created from the clone will not need these features specifically, for example the Active Directory Domain Controller we are going to create, but these features don't impact the ability of the machine to perform as a Domain Controller for the environment.
To get started building the base VM template, create a new VM in VirtualBox (Machine > New) and configure the VM options. For my template, I chose to allocate 1024MB RAM and create a dynamically expanding virtual hard disk that was 30GB in size, using the Windows Server 2008 x64 template for the VM. Once the VM is created, you will need to edit the VMs settings to configure the additional networking, and if appropriate additional vCPUs. For the Networking configuration, I leave NAT enabled for Adapter 1, and then configure internal networking for Adapter 2, 3 and 4 with Adapter 2 as a Internal Network named "Domain Network" and Adapter 3 and 4 on another Internal Network named "iSCSI Network".
Once the virtual networking has been configured for the VM, the last thing to do before powering the VM on is to set the CD/DVD device to the Windows Server 2008 R2 Evaluation Edition ISO file that was downloaded from Microsoft.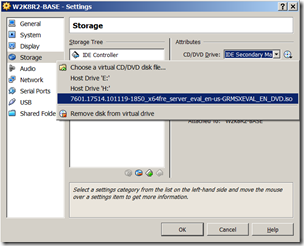 Once the VM boots it will immediately begin running the Windows Server 2008 Setup off the ISO and you will be on your way to setting up the template VM to base the rest of the servers needed in the environment off of. Once Windows Server 2008 R2 is installed, I add the three features I mentioned previously in this post to the VM; .NET Framework 3.5.1, Failover Clustering, and Multipath I/O. Once these have been installed, I run Windows Update to download and apply the most recent updates for Windows to the Server and then allow it to reboot. Once the VM reboots, depending on how anal retentive I intend to be with the environment, I may or may not disable the Windows Firewall, but as a best practice it should be left turned on. After I complete the configuration of the "base" template I want for the OS, it is time to run sysprep and reset the VM image for cloning to create multiple VMs based on its image. Sysprep can be executed from Start > Run. The options for sysprep should be set to "Enter System Out-of-Box Experience (OOBE)" and the checkbox for Generalize should be checked.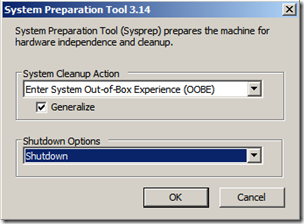 Once the VM shuts down it can be used to create clone VMs to build out the necessary infrastructure for the playground. In the next post in this series, we'll build the VM clones for the environments Active Directory Domain Controller and iSCSI "virtual" SAN using the Windows Server iSCSI Target.