Yesterday I was asked by email about a problem that someone encountered associated with a SQL Server Failover Cluster configuration that I have run into a number of times myself, and I have had questions about repeatedly in the past.  The problem is that during the SQL Server Setup Validation of the environment, a warning is raised stating that the Network Binding Order is incorrect for the environment.  If you click on the specific Setup Validation Warning you will get a box like the following: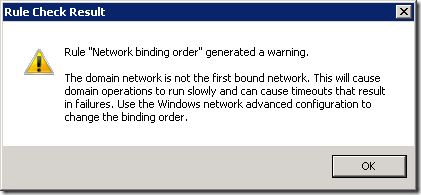 What this warning is telling you, is that you have multiple network interfaces configured on the server, and the default binding order for the interfaces places the current Domain access interface in a position that is not the first interface for the server.  This can be changed by adjusting the network binding order for the server in the Network Properties.  To make this change, open up the Network and Sharing Center by clicking on the network connection on the system tray and then clicking the Open Network and Sharing Center link.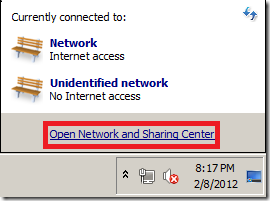 When the Network and Sharing Center opens, click on the Change adapter settings link on the left hand side.
Then when the Network Connections window opens, you have to press the Alt key to open up the window context menu so that you can then click on Advanced and Advanced Settings.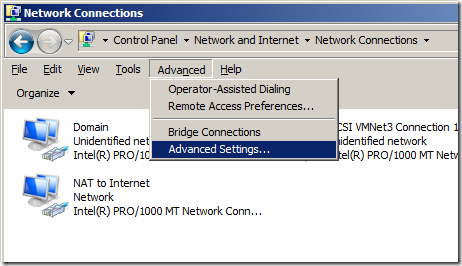 When the Advanced Settings window opens, you will be on the Adapters and Bindings tab, which allows you to change the binding order for the network interfaces on the server.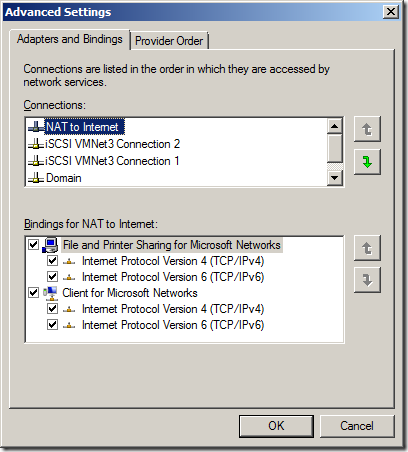 If you click on the appropriate interface for the domain connection, you can move it up to the first position in the binding order which will eliminate the warning in SQL Server Setup.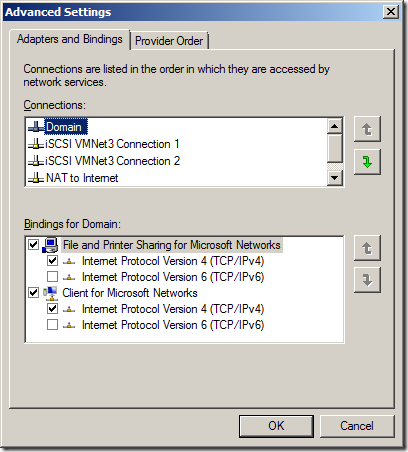 If changing the binding order does not resolve the warning, there may be a disabled or ghost network adapter in the system as discussed in the following KB article. (http://support.microsoft.com//kb/955963)