Data Dude (Visual Studio "DBPro") has generally been an expensive tool – only in the "Team Systems" Edition of Visual Studio. But, that's all going to change in VS 2010. Here's a picture of the new editions and which components of Data Dude are where: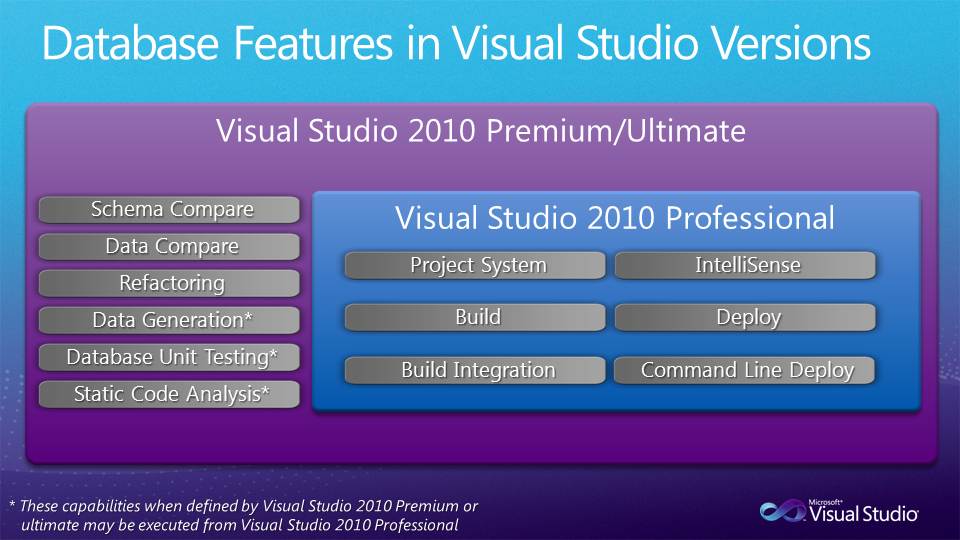 This is a HUGE improvement (after the clarification isn't not quite as huge but still VERY useful that the tools are in different editions) and is going to allow many of you to use/leverage these key features (such as Data Generation and Static Code Analysis – those are some of my favorites :)) in smaller shops – without having to purchase the full-on Team Systems Edition of VS. If you're interested in more info – check out the following:
CLARIFICATION!!
In 2010 "Team System" goes away (as a brand), and it's been replaced with VS 2010 Ultimate and Premium (VS Pro is still there). Basically VS Premium is similar to VSTS Development Edition + Database Edition (and is priced the same). Ultimate is similar to Team Suite.

The functionality didn't really move down the product line (or the price point), the big different is that there's more than only DB Pro tooling in there now!

Thanks to Doug "D7" Seven for setting me straight!
Enjoy!
kt