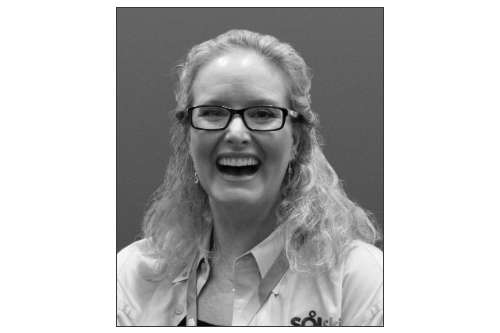 (Photo credit: Slava Murygin @ PASS Summit 2014)
Kimberly L. Tripp
President and Founder
Kimberly L. Tripp has worked with computers since high school in 1985. Her career with database technologies really kicked off when she worked as a "Marketing Support Assistant" at IBM in 1988 and needed a database to track a marketing program. Working with DataEase and then FoxBase, databases quickly became both a focus and a passion. In 1990, Kimberly was introduced to Ashton-Tate/Microsoft SQL Server™ while working for a small consulting and training firm in Chicago called LAN/mind. This OS/2 based platform was a game changer in flexibility and use (despite the single threaded process that only had access to 16MB of memory).
Becoming a Microsoft Certified Professional (MCP) and a Microsoft Certified Trainer in 1991, Kimberly decided that training was her real passion and pursued a career at Microsoft. Working for Microsoft University in 1992 and 1993, Kimberly delivered training all over the United States – with focus on SQL Server, Lan/Manager, and Windows. When Microsoft University moved to "train-the-trainer" deliveries only (instead of direct delivery to customers), Kimberly joined the SQL Server Development Team. Kimberly held positions at Microsoft including Subject Matter Expert/Trainer for Microsoft University and Technical Writer for the SQL Server Development Team. After working with a truly great team, Kimberly decided to leave Microsoft to pursue her passion for teaching and to allow her to work directly with customers "in-the-trenches" and solving complicated problems.
Forming SQLskills in 1995 and since, Kimberly has worked as an author, consultant, and speaker having spoken at PASS, TechEd, SQLintersection, and numerous conference and workshop events around the world. Kimberly was a Microsoft SQL Server MVP for over 17 years and with over 30 years of experience designing and tuning SQL Server solutions. She loves to face new challenges with a focus on performance. Her favorite topics are internals, indexing strategies, statistics, optimizing procedural code, and designing for VLDBs with partitioning.
When Kimberly's not architecting and tuning SQL servers, she's diving and photographing all sorts of underwater critters such as cephalopods and frogfish with her husband and co-owner of SQLskills, Paul S. Randal. 
Kimberly can be reached at kimberly@sqlskills.com.
Blog: https://www.sqlskills.com/blogs/kimberly
Twitter: http://twitter.com/kimberlyktripp
LinkedIn: https://www.linkedin.com/in/kimberlyltripp/
Instagram for underwater photography: https://www.instagram.com/kimberlyltripp
Read about my Celebrating 25 Years of SQLskills here: https://www.sqlskills.com/about/meet-the-team/celebrating25years/