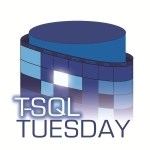 This month's T-SQL Tuesday is being run by newly-minted fellow-MVP Jen McCown (blog|twitter) and the topic is about resolutions. And specifically about resolutions around technology you've been pondering.
One of the things I try very hard to do is make it a bit fun when teaching people about SQL Server. Let's face it, it's a very, very dry topic and it would be really easy to get bored. If you know me at all, you'll know I have a pretty good (quirky) sense of humor.
So, my resolution this year is to continue to have fun!
This involves (in no particular order of priority):
Singing

I'm the first to admit that I have no singing voice whatsoever. That did not stop us recording a Christmas medley of songs and publishing them for you all to laugh at.
Here are the words to my Silent Night rendition:

Silent night, workload is light
Pager's quiet, all is right
Then a disk failure shakes off your delight
824 errors plague you through the nightAll of your backups are baaaad
But CHECKDB puts it all ri-ight, CHECKDB puts it all riiiiight.

Sheep

And talking of baaaad…. I like sheep. In a totally family-friendly way. Everyone needs to go watch this video about a massive pong game on the side of a hill involving cleverly herding hundreds of sheep in the dark, all of the wearing jackets made from hundreds of LEDs.

Electronics

And talking of LEDs…. the hobby I spend most of my time with is building and tinkering with electronics
Check out some of the things I've built recently:

Interactive light panels
Cascading shift registers to drive 7-segment LED displays

And some of the things on the list for this year:
What does all this have to do with SQL Server? Nothing. But it's what makes life fun! And that's my resolution – to keep having fun!