At the end of December I showed you how to discover if power saving is enabled on your server, which can lead to variable and often degraded performance. I also included a survey to let me know what you found after running the free CPU-Z tool on your servers. See here for the original post.
I want to do a quick post to show you the results of the survey.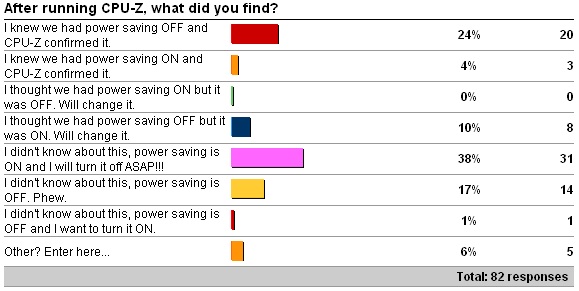 The five 'other' results were:
"As part of my server build scripts I disable power management"

"I thought I had power savings on and it was. However, I had never confirmed. (Personal Computer)"

"I thought we had power saving OFF and it was OFF. Good deal."

"Not sure if power saving is on — "Core Speed" is 75% of rated speed"

"Told IT that they need to change the bios settings and reboot. have they ? have they hell!"
As you can see, almost 40% of the people who tried the tool AND took the time to fill in the survey reported that they discovered power saving was erroneously enabled.
Have you tested your system yet?
Thanks!