Back in 2009 I started posting a summary at the end of the year of what I read during the year (see 2009, 2010) and people have been enjoying it, so I present the 2011 end-of-year post. I set a moderate goal of 50 books this year and I managed 53. Next year we have a lot more travel coming up and I'm going to aim for 60 books read. For the record, I read 'real' books – i.e. not in electronic form – I don't like reading off a screen. Yes, I've seen electronic readers – we both have iPads – and I'm not interested in ever reading electronically.
Choosing my favorite book of the year was again easy – there's alway one book that sticks in your mind as being the memorable strongest highlight of the year, among many highlights. This year it's The Cellist of Sarajevo by Steven Galloway. This was easily the most powerful book I read this year – about the lives of several people during the Seige of Sarajevo. Go buy it and read it – you won't be disappointed.
Now the details. I enjoy putting this together as it will also serve as a record for me many years from now. I hope you get inspired to try some of these books – push yourself with new authors and very often you'll be surprisingly pleased.
Once again I leave you with a quote that describes a big part of my psychological make-up:
In omnibus requiem quaesivi, et nusquam inveni nisi in angulo cum libro!

Analysis of what I read
I read 21526 pages, or 59.0 pages a day, and a book every 7 days or so. I'm a fast reader but I don't speed read or skim ever.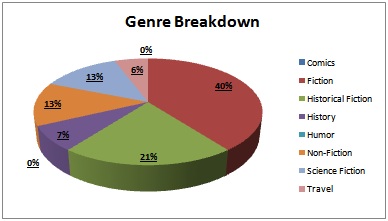 The average book length was 406 pages, a good 85 pages shorter than last year – which also contributed to the overall total being lower. I picked my books differently this year too – reading less science fiction and a lot more contemporary fiction. At least I think that's interesting :-)
The Top-10 Top-15
Well I really struggled with this as I read a lot of truly *superb* books in 2011. I didn't want to leave any out of my short list and deny you the chance of having them suggested so I present you with my top-15! If you don't read much, at least consider looking at some of these in 2011. It's impossible to put them into a priority order so I've listed them in the order I read them, along with the short Facebook review I wrote at the time. One thing to note is that all three books I read by Gore Vidal are in my top-15 – I have high hopes for the remaining 6 in his Narratives of Empire series.
The Complete List
And the complete list, with links to Amazon so you can explore further.