The last post of the year! It's been a really excellent year all round and time for my traditional post counting down some of the numbers that have been my life this year.
9233243 (roughly): the number of page views across my blog according to Google (up around 15% from 2012)

112289: the number of miles I flew on United
29660: my current tweet total (up 3271 from 2012)
12060: the number of emails I sent (up 1238 from 2012)
10290: the number of subscribers to our Insider mailing list (up 1793 from 2012)
7681: the number of people who follow my Twitter ramblings (up 2011 from 2012)
1330: the number of books (real ones) that I own (up 144 from 2012)
707: the number of books I own but haven't read yet (up 90 from 2012)
198: the number of nights away from home (all with Kimberly, so not *too* bad)
142: miles per hour I hit driving a NASCAR car around Charlotte Motor Speedway after PASS in October
122: the number of dives I did this year in Kona, Thailand, and Turks & Caicos, taking my total to 307
109: the number of feet down on my deepest dive this year
83: the number of minutes of my longest dive this year
75: the number of days in Immersion Events and conferences
66: the number of SQLskills blog posts, including this one
56: the number of books I read (see this post)
54.25: the percentage of time we were away from home (which is why we call it our vacation home!)
42: the number of flights this year
26: the number of different places we slept apart from our house and on planes
20: the number of new bird species I saw, taking my total to 464
19: the number of new Pluralsight courses we published this year, taking our total to 30
17: the number of airports I flew through this year
15: the number of monthly magazines I subscribe to
6: the number of  SQLskills full-time employees, all of whom are fabulous and indispensable
5: the number of countries we visited this year

4: the number of new airports I flew through, taking my total to 80

2: the number of new countries I visited this year (Japan and Turks & Caicos), taking my total to 32
2: the number of awesome daughters we have, who got Nitrox certified and passed their Advanced Open Water SCUBA certifications last week
1: rated session at the PASS Summit for my Waits, Latches, and Spinlocks session – woohoo!
1: rated pre-con workshop at the PASS Summit for my Practical Disaster Recovery Techniques workshop – woohoo again!
Finally, the one and only best person in my life: Kimberly, without whom I would be lost…
Thank you to everyone who reads our blogs, follows us on Twitter, sends us questions, watches our videos, comes to our classes, and generally makes being deeply involved in the SQL community a joy.
I sincerely wish you all a happy, healthy, and prosperous New Year!
Cheers!
(Diving with the girls over Christmas on the excellent Turks & Caicos Aggressor, courtesy of the boat crew)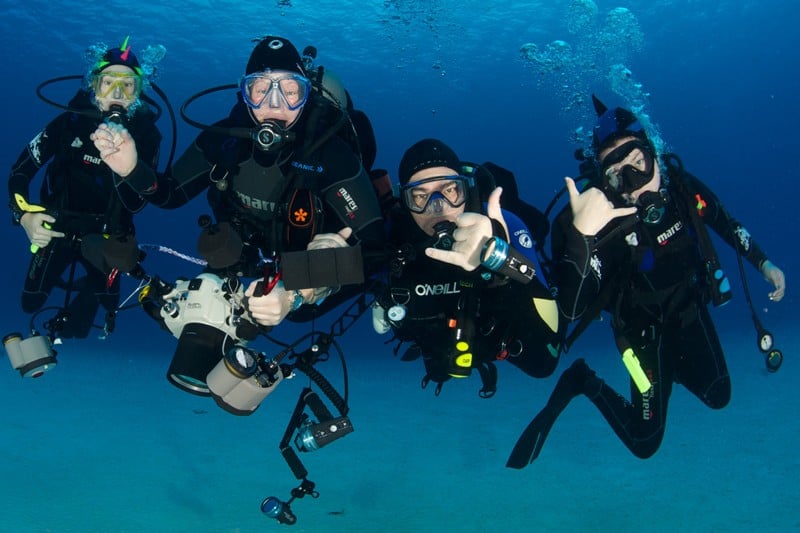 (Swimming with Caribbean Reef Sharks, courtesy of Kimberly)