The last post of the year! It's been a really excellent year all round and time for my traditional post counting down some of the numbers that have been my life this year.
10068445 (roughly): the number of page views across my blog according to Google (up around 9% from 2013)
105881: the number of miles I flew on United
31968: my current tweet total (up 2308 from 2013)
12267: the number of emails I sent (up 207 from 2013)
11621: the number of subscribers to our Insider mailing list (up 1331 from 2013)
9395: the number of people who follow my Twitter ramblings (up 1714 from 2013)
1474: the number of books (real ones) that I own (up 144 from 2013)
812: the number of books I own but haven't read yet (up 105 from 2013)
185: the number of nights away from home (all with Kimberly, so not *too* bad)
122: the total number of hours of online training we have available on Pluralsight
103: the number of feet down on my deepest dive this year (taking both girls down to 100 feet for the first time)
93: the number of dives I did this year in Kona and Indonesia, taking my total to 400
81: the number of minutes of my longest dive this year
80: the number of days in Immersion Events and conferences
56: the number of SQLskills blog posts, including this one
53: the number of books I read (see this post)
50.68: the percentage of time we were away from home (which is why we call it our vacation home!)
45: the number of flights this year
38: the number of Pluralsight courses we have available
20: the number of different places we slept apart from our house and on planes
20: the number of new bird species I saw, taking my total to 484
20: the number of airports I flew through this year
15: the number of monthly magazines I subscribe to
7: the number of years I've been married to Kimberly
6: the number of  SQLskills full-time employees, all of whom are fabulous and indispensable (soon to be 7, with Tim Radney joining in January)
5: the number of countries we visited this year

2: the number of new airports I flew through, taking my total to 82

2: the number of times we visited Australia this year, for four weeks in total
2: the number of awesome daughters we have, who both qualified as Rescue Divers this year, one level below Master Diver
2: the number of me and Kimberly who qualified as PADI Master Divers this year – the highest non-professional dive qualification
Finally, the one and only best person in my life: Kimberly, without whom I would be lost…
Thank you to everyone who reads our blogs, follows us on Twitter, sends us questions, watches our videos, comes to our classes, and generally makes being deeply involved in the SQL community a joy.
I sincerely wish you all a happy, healthy, and prosperous New Year!
Cheers!
(Giving a chin tickle to an old wallaroo in December at a wildlife sanctuary a few hundred kilometers from Sydney)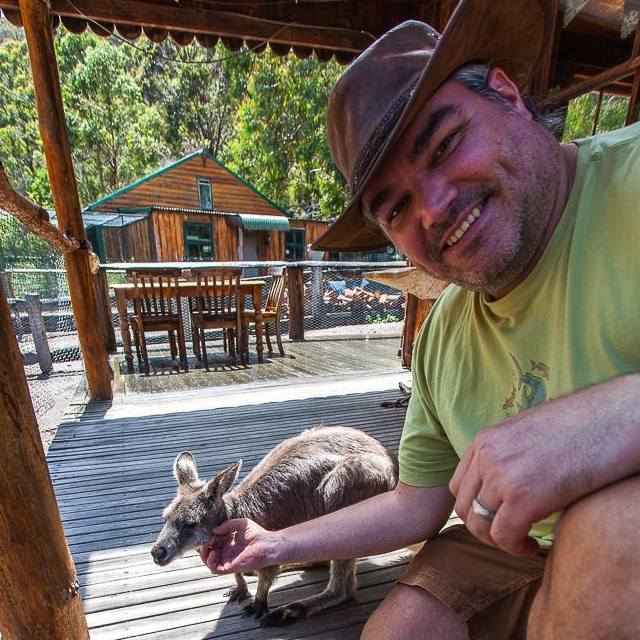 (On top of the Sydney Harbor Bridge in March)