I started 3D printing ear savers on April 5th. I am fast approaching the 2 month anniversary and I wanted to share a few stats from this adventure.
First, when I started out, I had a single Ender 3 Pro printer. I quickly realized that with the number of request for ear savers, that I needed more printers. This was an investment that I was comfortable making due to how badly our healthcare people needed these. I was able to find 3 more Ender 3 Pro's available at Quip Print, a disabled Veteran run business in Tampa Florida. Also to date, I've purchased 45 spools of PETG filament from them too.
Quickly I had 4 printers up and operational and running mostly 24/7. The first month I was getting up every few hours to take prints off the printer and start up more batches. As I got caught up with printing, I've been able to skip a cycle at night and get decent sleep.
Since April 5th, here are some stats:
12,005 ear savers printed
43 kg of PETG filament used – 94.80 lbs for us Americans
14,190 meters of filament used or 46,555 ft – 8.81 miles for us Americans
1,982 meters – length of each ear saver laid end to end.
6,502 feet – length of each ear saver laid end to end – approx 1.23 miles
307 – number of USPS stamps used
22 – number of small flat rate USPS shipping boxes sent
7 – number of medium flat rate USPS shipping boxes sent
50 – US states I've shipped ear savers too (Plus one box to the UK)
173 – Number of unique request for ear savers
270 – Approx number of ear savers I can print per spool of filament
1 – smallest request for ear savers
3000 – largest request for ear savers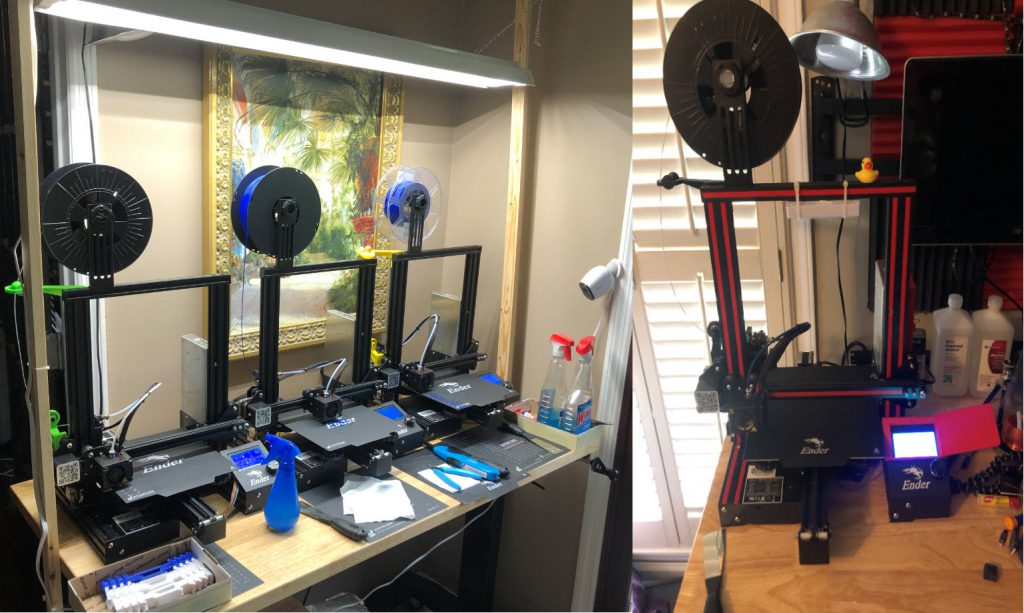 As of June 1st, I am completely caught up on shipping out ear savers. I haven't slowed down much on printing and have a decent amount in inventory. Please reach out if you or someone you know needs ear savers to take the pressure off their ears. I am printing with a material that is water proof and food safe, meaning, they can be sterilized with disinfectant. They are perfect for healthcare workers or anyone that is having to wear a mask.
These are printed and shipped within the US free of charge and I can ship outside the US too, I simply ask that you cover the cost of shipping, it's 3-4x more expensive.
I would like to give thanks to all who have chipped in to help me fund this project. Without the support of my SQL family, Scouting family, and friends, I would not have been able to scale like I did. Also thanks to Paul Randal, Kathi Kellenberger, Angela Tidwell, and Ben Miller for joining in printing these. Paul started the same time I did and has printed around 5k ear savers. I'm confident if we added it all up, the SQL Community have contributed over 20k ear savers to those in need.
As long as people are still needing the ear savers, I can get access to material to print them, and have the funds to ship, I'll keep printing.