The Spring SQLintersection conference will be May 21st – May 24th. I attended my first SQLintersection conference Spring of 2015 and was blown away at how awesome a conference can be. There was an incredible lineup of speakers and sessions. What I found to be one of the best features of this conference is the attendee to speaker ratio. I have been to conferences where you have hundreds of attendees in each session, while the content of that session can be good, if you have any additional follow up questions, you couldn't gain access to the speaker. At SQLintersection, the speakers were readily available and eager to share follow up answers to questions after their session.
Another great thing about SQLintersection is the ability to attend workshops. For the Spring conference there are two days of pre-conference workshops and one day of post conference workshops. I am fortunate to be presenting a full day pre-conference workshop on Azure as well as three general sessions.
If you are planning to attend the Spring 2017 SQLintersection conference, you can use the discount code RADNEY to save $50 off of registration.
The Spring 2017 conference has a stellar line-up of speakers to include (in alphabetical order)
Aaron Bertrand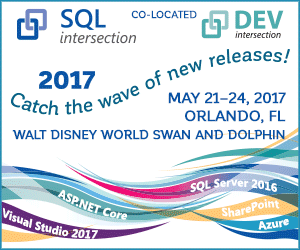 Tim Chapman
Jonathan Kehayias
Ben Miller
Brent Ozar
David Pless
Tim Radney
Paul Randal
Joe Sack
Shep Sheppard
Erin Stellato
Kimberly L. Tripp
Bob Ward
Buck Woody