Back in 2009 I started posting a summary at the end of the year of what I read during the year (see 2009, 2010) and people have been enjoying it, so I present the 2011 end-of-year post. I set a moderate goal of 50 books this year and I managed 53. Next year we have a lot more travel coming up and I'm going to aim for 60 books read. For the record, I read 'real' books – i.e. not in electronic form – I don't like reading off a screen. Yes, I've seen electronic readers – we both have iPads – and I'm not interested in ever reading electronically.
Choosing my favorite book of the year was again easy – there's alway one book that sticks in your mind as being the memorable strongest highlight of the year, among many highlights. This year it's The Cellist of Sarajevo by Steven Galloway. This was easily the most powerful book I read this year – about the lives of several people during the Seige of Sarajevo. Go buy it and read it – you won't be disappointed.
Now the details. I enjoy putting this together as it will also serve as a record for me many years from now. I hope you get inspired to try some of these books – push yourself with new authors and very often you'll be surprisingly pleased.
Once again I leave you with a quote that describes a big part of my psychological make-up:
In omnibus requiem quaesivi, et nusquam inveni nisi in angulo cum libro!

Analysis of what I read
I read 21526 pages, or 59.0 pages a day, and a book every 7 days or so. I'm a fast reader but I don't speed read or skim ever.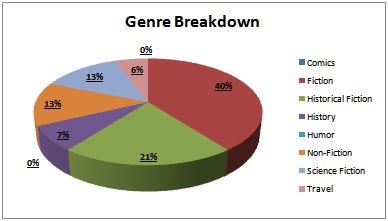 The average book length was 406 pages, a good 85 pages shorter than last year – which also contributed to the overall total being lower. I picked my books differently this year too – reading less science fiction and a lot more contemporary fiction. At least I think that's interesting :-)
The Top-10 Top-15
Well I really struggled with this as I read a lot of truly *superb* books in 2011. I didn't want to leave any out of my short list and deny you the chance of having them suggested so I present you with my top-15! If you don't read much, at least consider looking at some of these in 2011. It's impossible to put them into a priority order so I've listed them in the order I read them, along with the short Facebook review I wrote at the time. One thing to note is that all three books I read by Gore Vidal are in my top-15 – I have high hopes for the remaining 6 in his Narratives of Empire series.

#3
Wolf Hall
; Hilary Mantel; 592pp; Historical Fiction; April 2; (Fabulous historical fiction recounting Thomas Cromwell's time at Henry VIII's court during downfall of Wolsey and rising of the Boleyns. Very detailed and extraordinary character development. Very strongly recommended.)

#5
Creation
; Gore Vidal; 592pp; Historical Fiction; April 17; (Very complex book based on reminiscences of a Persian ambassador to Greece, China, and India around 500BC. Conversations with Confucious, Buddha, and others make for some deep reading. Also paints a wonderful view of the Persian world around that time. Strongly recommended for history fans who enjoy pithy works.)

#10
Surface Detail
; Iain M. Banks; 640pp; Science Fiction; May 17; (I take back everything I've said – nothing beats Banks' Culture novels when at their finest for sheer, unbridled rollicking sci-fi. A total page turner with some excellent Ship and Mind goings-on and a mind-bending twist at the end reaching back about ten books and 20 years. If you like sci-fi go buy it and read it without delay. Fabulous. Just fabulous.)

#14
The Club Dumas
; Arturo Perez-Reverte; 368pp; Contemporary Fiction; June 10; (The Club Dumas is the basis for one of my favorite movies – The Ninth Gate, although the movie places emphasis on a different part of the plot. Excellent book centered on ancient books – any book about books is an instant hit with me. Follows a book 'mercenary' investigating differences between the 3 final copies of a 1667 book about raising the devil. Excellent – recommended.)

#23
The Cellist of Sarajevo
; Steven Galloway; 256pp; Contemporary Fiction; July 11; (Wow – what a powerful book! Sarajevo must have been a nightmare when it was under siege. The book centers around the (true) story of a cellist who plays for 22 days in the same spot to honor 22 people killed by a shell while waiting to buy bread. Imagine having to cross street junctions with random snipers killing people as they do so? Wow.)

#29
Les Miserables
; Victor Hugo; 640pp; Fiction; July 29; (Hugo's classic tale is absolutely wonderful – a real tour de force. It's a long and complex book dealing with France from 1820s-1830s and following the life of the convict Jean Valjean and those around him, especially the police inspector Javert. It was also made into an excellent movie with Liam Neeson and Geoffrey Rush playing the two roles, respectively. Very strongly recommended.)

#38
City of Thieves
; David Benioff; 272pp; Fiction; August 28; (Excellent story of a young man during the seige of Leningrad being forced to venture into the German occupied hinterland in search of eggs. Really well done and a page turner – read the whole thing this afternoon. Great twist at the end too. Recommended.)

#39
Julian
; Gore Vidal; 528pp; Historical Fiction; September 6; (Fabulous book! A biography of Julian Augustus, told as a novel, following his rise to power, apostasy and intellectual persecution of Christianity as a made-up religion, and military endeavors. I found it a page-turner with an excellent feel for the times that Julian lived in and the fragility of the Roman principate. Strongly recommended!)

#41
A Passage to India
; E.M. Forster; 416pp; Contemporary Fiction; September 18; (A masterful portrayal of the British Raj in the early C20th – their haughty arrogance as colonialists and their misunderstanding of the Indian society and culture they're in. The characters are involved in a scandal which brings out the heated worst behavior in both sides of the community. Strongly recommended.)

#43
Cleopatra
; Stacy Schiff; 400pp; History; October 9; (Fabulous depiction of her life, drawn from the limited sources that survive. Tells the stories of how her life and reign entangles with Julius Caesar's and Mark Anthony's, to invariably dire consequences. I've never read anything in depth about her life before and I'm glad this is what I read first. Strongly recommended.)

#44
Parrot and Olivier in America
; Peter Carey; 400pp; Historical Fiction; October 24; (Excellent account of the complicated life of two unlikely companions in the early 1800s in America, removed from France after the 100 Days when Napoleon briefly regainedd power. Peter Carey has a great way with words and character portrayals. Strongly recommended!)

#45
The Girl With The Dragon Tattoo
; Stieg Larsson; 600pp; Contemporary Fiction; November 4; (Excellent! Turned into a complete page turner for me. Hard to say much about it without giving away major plot elements, but characters and settingmare very well done. If you've been avoiding this like I had, give in and read it – you won't be disappointed. Already got 2nd and 3rd in trilogy to read. Strongly recommended!)

#46
The Outlaws Inc.
; Matt Potter; 332pp; Non-Fiction; November 13; (Excellent non-fiction account of the ex-Soviet air crews and their giant Anatovs and Ilyushins that fly around the world into some of the dodgiest places on the planet. It also shows how many governments and NGOs make use of them and turn a blind eye to the smuggling of all kinds of things that go on beside their legit cargo loads. Well worth reading.)

#52
Olive Kitteridge
; Elizabeth Strout; 304pp; Contemporary Fiction; December 26; (Excellent book dealing with the life of a cranky old woman in a small town in Maine. It's presented as a series of short story microcosms of people's lives in the town that are linked in some way to Olive. Especially interesting to see how her life changes when major events happen and how she works through them. Kind of reminds me of Annie Proulx's work but not so gritty and heavily written. One of my favorites this year.)

#53
Burr
; Gore Vidal; 448pp; Historical Fiction; December 30; (Excellent start to Vidal's Narratives of Empire series. Goes through Burr's reminiscences of his life during the Revolution, Vice-Presidency and treasonous activities in the West. Really looking forward to reading the other 6 in the series.Strongly recommended for history fans.)
The Complete List
And the complete list, with links to Amazon so you can explore further.