Back in 2009 I started posting a summary at the end of the year of what I read during the year (see my posts from 2009, 2010, 2011, 2012, 2013, 2014) and people have been enjoying it, so here I present the 2015 end-of-year post. I set a moderate goal of 50 books this year and I managed 88! I thought about pushing for 100 like I did in 2009 but I didn't read enough in October and November to be able to do it. Just like last year, I wanted to get through some of my larger non-fiction books but ended up not doing as many as I thought (reading more, shorter books). Next year I'm setting myself a goal of reading 50 books again.
For the record, I read 'real' books – i.e. not in electronic form – I don't like reading off a screen. Yes, I've seen electronic readers – we both have iPads – and I'm not interested in ever reading electronically. I also don't 'speed read' – I read quickly and make lots of time for reading.
Why do I track metrics? Because I like doing it, and being able to compare against previous years. Some people don't understand the logic in that – each to their own :-)
I vacillated for the last few days about which book to crown as my favorite, and I just couldn't come to a decision, so just like in 2012, I give you my favorite 3 books: Seveneves by Neal Stephenson, All The Light We Cannot See by Anthony Doerr, and The Bone Clocks by David Mitchell. All three are just superb books and I strongly recommend you give them a try. You can read my review of them in the top-10 (well, 14) list below.
Now the details. I enjoy putting this together as it will also serve as a record for me many years from now. I hope you get inspired to try some of these books – push yourself with new authors and very often you'll be surprisingly pleased. Don't forget to check out the previous year's blog posts for more inspiration too.
Once again I leave you with a quote that describes a big part of my psychological make-up:
In omnibus requiem quaesivi, et nusquam inveni nisi in angulo cum libro!
Analysis of What I Read
I read 37353 pages, or 102.34 pages a day, and a book every 4.1 days or so. The chart below shows the number of pages (y-axis) in each book I read (x-axis).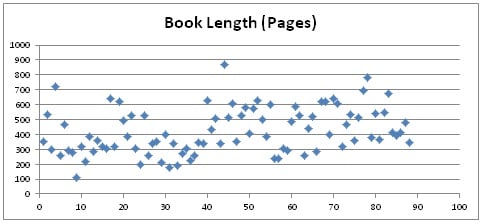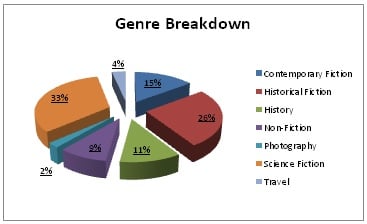 The average book length was 423 pages, more than 100 pages shorter than last year. That's because I read a lot of series books where each isn't hugely long.
The Top-1014
I read a lot of truly *superb* books this year, and I just couldn't whittle it down to a top-10, so here's my top-14 (well, really more as some of them are the start of series). If you don't read much, at least consider looking at some of these in 2016. It's impossible to put them into a priority order so I've listed them in the order I read them, along with the short Facebook review I wrote at the time.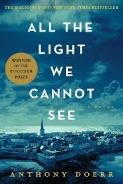 #2; All The Light We Cannot See; Anthony Doerr; 531pp; Historical Fiction; January 10; (Fabulous book about a blind French girl and an orphaned German boy who both experience WWII in their teenage years in vastly different ways, and come together briefly at the end of it. Wonderfully told, with richly evocative writing – I could visualize everything that was happening. Describes some of the horrors faced by those living through and perpetrating the occupation of France. Heading to Amazon to investigate his earlier works. Very strongly recommended.)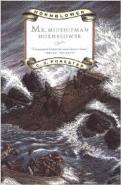 #10; Mr. Midshipman Hornblower (and the rest of the series); C.S. Forrester; 320pp; Historical Fiction; February 7; (I'm rereading the Hornblower Saga this year after having last (and first) read them in 2000. An excellent start to the series, this book introduces the young, inexperienced Hornblower and sees him transform into an honorable, competent Lieutenant. This book was also the inspiration for the first 4 episodes of the terribly good A&E television series starring Ioan Gruffudd. Looking forward to getting into the second one, and maybe I'll shoot for 100 read books again this year?)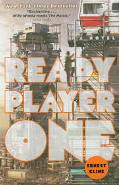 #12; Ready Player One; Ernest Cline; 384pp; Science Fiction; February 12; (Really good novel about players competing to 'win' a world-encompassing immersive, VR game after the founder dies and leaves a giant fortune to the winner. Quite similar in scope to Snow Crash, but obviously a different story. Quite a page turner, recommended.)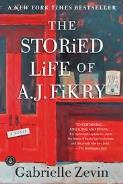 #13; The Storied Life of A.J. Fikry; Gabrielle Zevin; 288pp; Contemporary Fiction; February 13; (Start reading this yesterday morning and it became a page turner for me. It's a great chick flick basically (which I love, but not usually in book form), about a book store and its owner and his life. Lots of little twists in the gentle story and a nice read. Now I'm taking the girls to Elliot Bay Bookstore in Seattle to buy more books. Chain book stores just don't cut it unfortunately. Recommended!)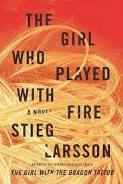 #40; The Girl Who Played With Fire; Stieg Larsson; 630pp; Contemporary Fiction; May 4; (I read the first book (The Girl With The Dragon Tattoo) back in 2011 and loved the movie last year (the new one, not the older Swedish one). This book's even better than the first one I think – it turned into a real page turner for me over the last couple of hundred pages. Again it's hard to talk about the plot without giving things away, but it's a great thriller and strongly recommended.)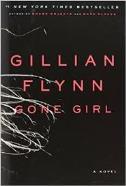 #41; Gone Girl; Gillian Flynn; 432pp; Contemporary Fiction; May 8; (Excellent page turner with some great twists. Highly recommended and I can't wait to see the movie!)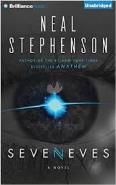 #44; Seveneves; Neal Stephenson; 869pp; Science Fiction; June 14; (Really excellent, and long, novel about the destruction of the surface of the Earth (from the break up of the moon and subsequent bombardment with trillions of meteorites) and the human race's survival in space (over a period of 5,000 years until the Earth's surface cools down again) and re-colonization of the Earth. Very believable with no sci-fi that requires suspension of belief. Hugely recommended and I hope there's a sequel.)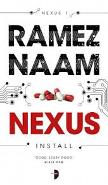 #48; Nexus (and the rest of the series); Ramez Naam; 528pp; Science Fiction; June 30; (Excellent book! Start of a trilogy (I have the other two with me) about a mind-altering drug that expands consciousness and allows minds to talk to each other. The protagonists have extended the concept to run a Linux-like OS in their heads, with all kinds of interesting apps. And of course the US govt. is against it so all kinds of clandestine ops result, with lots of mayhem. A page-turner – highly recommended!)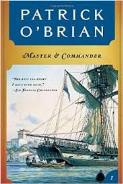 #50; Master and Commander (and the rest of the series); Patrick O'Brian; 403pp; Historical Fiction; July 8; (First of the fantastic Aubrey-Maturin novels by Patrick O'Brian. I listened to all 20 of them in 2000-2002 while driving back-and-forth to work at Microsoft. This book introduces the principals, and deals with Jack Aubrey's eventful captaincy of the sloop Sophie in the Mediterranean. Highly recommended, the entire series.)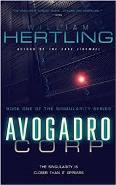 #56; Avogadro Corp (and the rest of the series); William Hertling; 240pp; Science Fiction; July 23; (Cool start to the Singularity Series about runaway A.I. technology. In this book Avogadro gives it's email program the capability to rewrite and/or send emails for maximum chance of success, based on who the email is being sent to. And then someone adds another directive to maximize the chances of the survival of the project, and the story takes off from there. Clever concept and a quick read. Looking forward to the rest of them. Recommended.)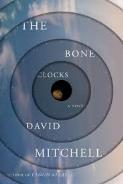 #67; The Bone Clocks; David Mitchell; 624pp; Contemporary Fiction; August 25; (What an excellent book! A very clever story, woven through long chapters/novellas, each set in a different time, introducing and cleverly drawing together the principal characters. The character development is brilliant and I couldn't put the book down – enormously entertaining and so far the best book I've read this year. Highly recommended!)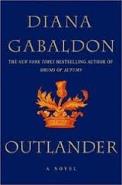 #70; Outlander; Diana Gabaldon; 640pp; Historical Fiction; September 6; (Several people have recommended this to me over the last year, given my Scottish roots, and I finally took the plunge and bought the first four books in the series. I'm glad I did! It's a really good story about a woman who is transported back 200 years to just before the 1745 rebellion under Bonnie Prince Charlie and has to suddenly find her way in that time. It has plenty of colorful characters and action and I'm really looking forward to continuing with the next books. And of course there's the T.V. series (which I haven't watched yet but I've heard is really good). Highly recommended!)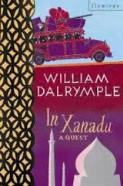 #72; In Xanadu: A Quest; William Dalrymple; 320pp; Travel; September 17; (Excellent travelogue following Marco Polo's journey along the Silk Road to Xanadu. They travel through Israel, Syria, Turkey, Iran, Pakistan, and China in the late '80s, with all kinds of interesting encounters along the way. Highly recommended – love Dalrymple's writing style!)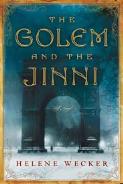 #76; The Golem and the Jinni; Helene Wecker; 512pp; Historical Fiction; September 30; (Excellent debut novel set in early 1900s New York, following the story of a golem (a creature made from clay and brought to life with Kabbalistic magic) and a jinni (a natural, elemental creature made of fire) that was trapped in a copper flask by a wizard a thousand years ago. It covers their problems integrating into the populace of New York, their eventual meeting, and problems when their true nature starts to be discovered. Very well written and high engaging – highly recommended!)
The Complete List
And the complete list, with links to Amazon so you can explore further. One thing to bear in mind, the dates I finished reading the book don't mean that I started, for instance, book #2 after finishing book #1. I usually have anywhere from 10-15 books on the go at any one time so I can dip into whatever my mood is for that day. Some books I read start to finish without picking up another one and some books take me over a year. Lots of long airplane flights help too!