SQLskills Insider Holiday Party
All bets are off…
Let's just kick back and chat. We'll have the whole SQLskills team here to discuss holiday fun.
START TIME: 10:00am Pacific Time / 1:00pm Eastern Time (what time for you?)
LENGTH: 60 minute session
Thanks everyone!
It was great fun. I did save the slides here.
Paul's famous ribs…
from Paul
He's posted these already on his blog…
Kimberly's notes – these are even better when you marinade them overnight!
And, I think they're also especially good when they're a bit caramelized (and blackened on the edges – that photo below is PERFECT)!
And the AFTER… sooooo good!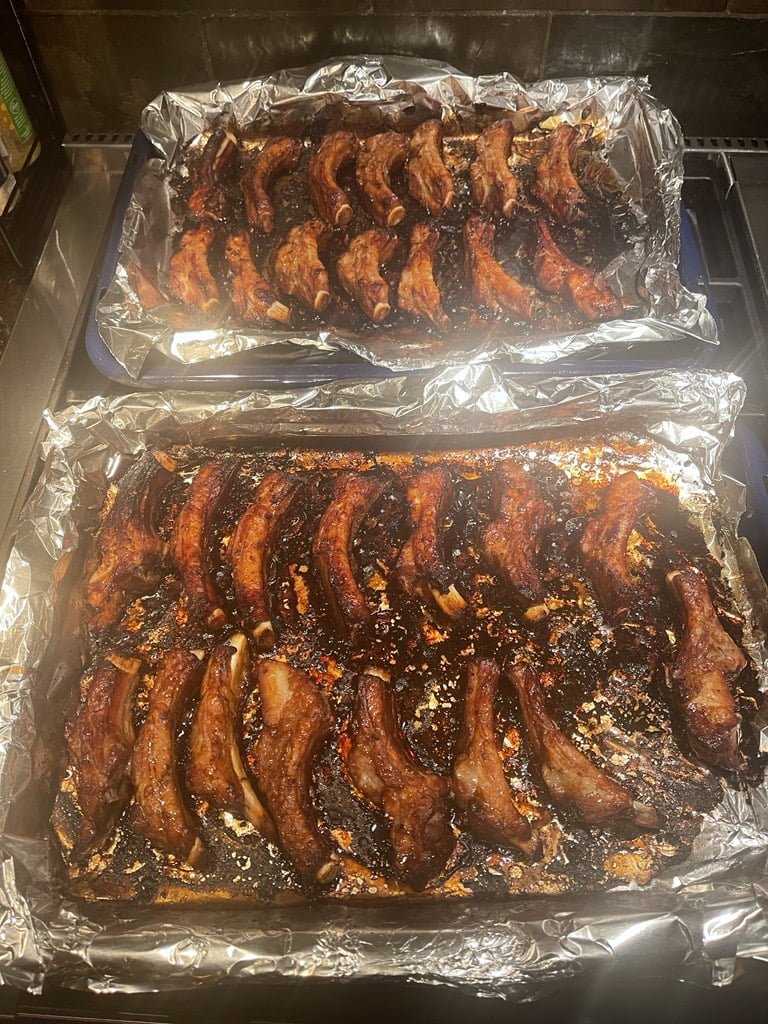 Jon's Yia-Yia and Mom's favorite finger cookies!
from Jon
Finger Cookies
1 cup (2 sticks) butter
½ cup powdered sugar
2 cups flour
2 cups very finely ground pecans
2 teaspoons vanilla extract
Powdered sugar for rolling
In a large bowl, cream butter and the ½ cup powdered sugar together until light and fluffy. Add the flour, nuts and vanilla and mix until combined. Preheat oven to 325 degrees.  Roll small balls of dough into finger-like shapes and place on ungreased cookie sheet. Bake in preheated oven 12 to 14 minutes, until lightly browned on the bottom. Let cookies cool briefly before rolling in powdered sugar and placing on racks to cool. After cookies have completely cooled, roll in powdered sugar again.
My Mother's famous "Butter Tea Cookies" 
from Kimberly
Butter Tea Cookies
1/2 lb butter (2 sticks)*
1/4 cup of sugar
2 cups of flour
1 cup chopped pecans
Pecan halves for the top
Let the butter soften for a bit… 2 hours to room temp will make your life easier.
Preheat the oven to 325.
Blend the butter and sugar. I use a plastic spatula and smush / stir the sugar into the butter. Once blended, add the flour slowly. Finally, add the chopped pecans.
Roll into balls, slightly flatten down the top (a glass with a wet paper towel on it will work or a light press with a spatula), and place on ungreased cookie sheet.
Bake for 15-20 minutes at 325. However, don't let them brown. Check the bottoms at 10 mins and 15 mins. Decide if you need 20 minutes.
Buttercream frosting

1/3 cup butter*
2 cups powdered sugar
1 egg yolk**
1 teaspoon vanilla extract
1 tablespoon milk, cream, or milkadamia nut milk
Again, better when the butter has softened. Mix together.
If you want to add coloring to the frosting, separate into bowls and decide the color you want! I usually make red, green, a "cream" for Christmas… as pictured.
Once the cookies have cooled (do NOT try to do this when they're hot… you'll make a mess), frost the cookies, and press a nice pecan into the top. Ready to eat. Save some for other people. 😉
NOTES / OPTIONS / MODIFICATIONS:
* If you want to make these vegan, I've found that Earth Balance Vegan Buttery Sticks work well. However, you do need to watch the bake times on the cookies a bit more. And, you might want to add a tad more flour (only a tablespoon or two).
* Sometimes I'll also sprinkle colored sugar on top… or, even in the mix. This year I used pink and the cookies actually had a very slight pink color. They were fantastic for New Years!
**If you don't want "raw egg yolk" in your frosting… you can skip the yolk. I've skipped the yolk on the frosting but then you need to find the right consistency with the milkadamia nut milk. That milk is a bit sweet – which makes it wonderful for baking AND on cereal!
Oatmeal Cranberry Cookies via Wild Flour Bakery
from Erin
Oatmeal Cranberry Cookies
½ pound unsalted butter, softened
1 ¼ cups brown sugar
½ cup sugar
2 large eggs
2 tsp vanilla
1 Tbsp milk
2 cups oats
2 cups all-purpose flour
1 tsp baking soda
1 tsp nutmeg
1 tsp salt
1 cup dried cranberries
Preheat oven to 350.
In a separate bowl, combine oats, flour, baking soda, nutmeg, and salt.
In a large bowl, cream butter, brown sugar, and white sugar until fluffy.  Beat in eggs, vanilla, and milk.
Add dry ingredients to the large bowl and mix until combined.  Stir in cranberries.
Chill dough 1 to 2 hours for best results.  If you bake the cookies immediately, they will be thinner (like the ones in the picture).  Chill the dough for a chewier cookie.
Place teaspoons of dough onto greased cookie sheet or parchment paper.  Bake for 12-14 minutes or until golden brown.
Broccoli Casserole – you won't be disappointed!
from Kimberly
Broccoli Casserole
1 stick of butter (1/2 cup)
1 onion (I prefer white onions with the yellow skins, some of the bright white onions are sometimes too strong)
1 cup cooked rice (Minute rice is fine!)
1 cup shredded cheddar cheese (I love Tillamook)
1 can cream of mushroom soup
4 heads of fresh broccoli (I remove stalks and stems and make the florets bites size, cutting some in half)
Nuts: Slivered almonds or cashews both work well when we had someone with an almond allergy but slivered almonds add a nice crunch!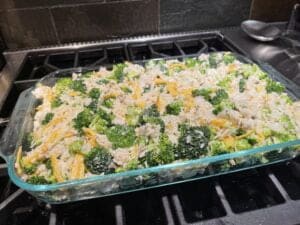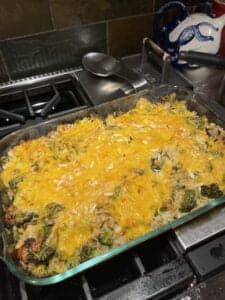 You need to DOUBLE this recipe for a 9×13 Pyrex dish (as pictured). And, to be honest, I play around with this one too. More broccoli… you can definitely play a bit. I also like to add the butter and onions to the cooked rice (when it's warm) to melt the butter and coat the onions in butter. It also makes things easier to mix.
Bake for 40 minutes at 325 (you might want to cover it with aluminum foil for much of this time – especially if it's on the top shelf). When you're ready to add some more cheese and the remaining almonds for the top – remove the cover. Save some almonds for the top – adding with 5-10 mins left. And, if you make a larger amount, you'll need to watch for when the top / cheese browns up. Everyone seems to love this one! And, finally, I remembered to take an after picture this year. Nom nom nom! I do so love this casserole!!
Another Yia-Yia favorite kourabiedes (Greek Butter Cookies)
from Jon
Greek Butter Cookies
1 cup butter, room temperature
1 egg yolk
2-3 cups powdered sugar – the more the better
1 teaspoon vanilla
1/2 teaspoon brandy
2 cups flour
Preheat oven to 350F. Place butter in bowl and whip until light and fluffy, about 10-15mins (don't shortchange this, it really must be whipped up good). Add egg yolk and blend into whipped butter.  Add 1/4 cup powdered sugar, vanilla, and brandy. Mix well. Add flour and mix until soft dough is formed. Use more flour as needed. Line a baking sheet with parchment paper.  Form small pieces of dough into a small ball and pinch the center of the dough ball to flatten, then place on baking sheet.  Repeat until all dough it used.  Bake in the oven for 20-25mins, or until bottoms of cookies are golden brown the tops will not brown. Remove from oven and place on cooling rack for 10-15mins. Shake in a bag of powdered sugar.